The waste we generate through our business activities has a big environmental impact and working out the best way to reduce this is a challenge for property owners and managers.
Through the BBP Managing Agents Partnership, we've recently published two documents on Improving Waste Management Practices; A Standardised Reporting Framework and  Procurement Specifications.
However, it can be difficult to prioritise waste when it's disposal is invisible to us once it leaves the site.  To support our members' understanding of what happens to waste once it leaves their properties, we organised a visit to BPR Group's Materials Recycling Facility (MRF) in Purfleet, Essex to find out more!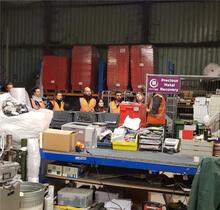 Arriving at site
On arrival, we were welcomed by the BPR team outside the facility, where Bill Swan, Managing Director of BPR Group pointed out at a distance a Landfill site and an Energy-from-Waste incineration plant, comparing the old and the new of traditional waste management practices and highlighting the importance of recycling and a circular economy as a way forward for the industry. On that positive note, we set off on a tour of the facility. 
The 66,000 ft2 facility processes dry mixed recycling, food waste, construction waste and any source segregated waste including IT equipment, e-waste and confidential waste. All the material is collected from BPR Group customers across Greater London. As a principle, BPR Group try to implement closed-loop recycling as much as possible, where products are recycled back into the same product. These include paper, cardboard, milk bottles, plastic film and some other forms of rigid plastic like bread trays, refurbished IT equipment etc. Several such waste streams are converted into high-quality products marketed by the stationary arm of the business. Other more unusual waste streams are recycled, these include coffee cups and coffee grounds.
In 2017, approx. 14,000 tonnes of Dry Mixed Recycling, the same weight as 1,200 double-decker Routemaster buses was processed in this facility. Of this, a total of 86% was recycled and 14% was sent to generate electricity and heat. No waste was sent directly to the landfill.   
"The visit to BPR's site was really useful to help me understand the workings of a MRF and how we could improve the amount we recycle. I definitely left with much greater knowledge than when I arrived." – Sophie Carruth, Head of Sustainability Europe, LaSalle Investment Management
How are the various waste streams recycled?
Paper, cardboard and newsprint:  BPR specialise in the recycling of paper which constitutes approximately 44% of the waste recycled by weight at the site. The paper is carefully sorted by hand into 4 grades; (i) White paper, (ii) sorted office waste (including white envelops, magazines, coloured paper etc.), (iii) cardboard and (iv) newspaper & magazines.
The site tries to maximise closed-loop opportunities wherever possible. For example, the newspaper and magazines are reprocessed and recirculated as newsprint, and the cardboard is baled and then made back into packaging material at a number of mills in the UK.
However, the recycling process for paper is the best example. Paper is sent to a paper mill in France where it is turned into a slurry of fibres and sieved to remove contaminants such as staples. Inks are removed by a process involving bubbling air through the mixture, followed by a treatment using bleach and brighteners. The clean usable fibre is pulped and converted into office printing paper and envelops. Incredibly, paper can leave an office's recycling bin and be back in the printer within 6 weeks! And this can happen about 6 or 7 times before the fibres become unusable. At which point, this unusable residue known as sludge is burned by the recycling plant to generate heat and power for the recycling process or used as a soil conditioner by farmers. Interestingly, we learnt that France is one of the major centres within Europe for paper recycling due to the energy subsidies provided for such activities.
We also learnt that paper is one of the waste streams which may be easily contaminated within Dry Mixed Recycling, either through moisture residue present in drink bottles, shards of broken glass etc. which may render them unrecyclable. It is thus encouraged where possible to separate out paper and glass at the site.
"From a personal point of view, the trip was eye opening and gave me a better appreciation and understanding of just what's involved in sorting our waste. I was surprised to realise just how far our waste travels in order to be recycled and have picked up some simple tips that I think will help me, and anyone else that will listen, recycle more effectively." – Andrew Poynter, Associate Asset Services, Cushman & Wakefield   
Image Above: Hand sorting of paper and cardboard based on grade
Plastic Recycling: BPR recycles a number of plastics. Clear plastic film is baled and transported to specialist recycling plants, where they are washed and extruded back to plastic film. HDPE found in milk bottles is heated until molten, to remove contaminants, and made into pellets that are then used to make new milk bottles. PET plastic bottles, such as Coke bottles, are also converted into flakes suitable for making new bottles. They are also recycled into other non-food applications such as making clothing and carpets from spun fibres.
Each tonne of plastic recycled, negating the need to use virgin materials, saves two tonnes of CO2. Lower quality plastics are also processed but are made into items such as drainage pipes and 'plaswood' – a wood substitute used to make outdoor furniture and decking.
IT and Appliances: BPR has an extensive IT handling facility that includes a data wiping and testing facility. We learnt that they collect, safely recycle and dispose of a variety of items including computers, phones, appliances including fridges, dishwashers, kettles and other sundry metal items. Reasonably modern IT equipment found to be in a working condition is cleaned and then sold for reuse.  Very old or non-working equipment is disassembled, and the various components are recycled and reused in new machines. Keyboards are sanitised and reused as well. Appliances such as fridges are taken to specialist facilities, where these are broken down by fragmentisers before they are separated using powerful magnets and other means into material for recycling.  95% of the steel is completely recycled. The motherboard and phones are a rich source of precious metals such as gold, silver and platinum.
Toner cartridges are recycled at a specialist facility in Milton Keynes, where components that can be reused are remanufactured. The refurbished eco-cartridges are then sold via the stationary arm of BPR thus forming a closed-loop system. Lead acid batteries in the form of Uninterrupted Power Supplies are reused wherever possible or else recycled.  
We also learnt that lamps containing mercury are processed at Approved Authorised Treatment Facilities. The component materials including glass (84%), metals (12%) and phosphor powder (4%) are separated and recovered. The glass is treated and returned to be made into new fluorescent tubes and the mercury from the phosphor powder is also distilled and purified into various grades, to be finally used in the production of new lamps.
"It was a great learning experience into the world of waste. Very different to how I envisioned a MRF which will certainly influence decisions in my sustainability role at work." – Karl Desai, Sustainability Manager, JLL
Food Waste and coffee cups: Food waste is collected at Purfleet and then sent to an anaerobic digestion (AD) biogas plant which uses a combined heat and power unit to convert the biogas into clean electricity and heat. The electricity is fed back to the National Grid and the heat is reused in the AD plant. 
We found out that coffee grounds are not sent to the AD plant as it does not break down easily. However, they are high in calorific value so BPR collects coffee grounds separately and have collaborated with Bio-Bean in Cambridgeshire to convert them into coffee logs that are then used as biofuel pellets for biomass boilers.
Coffee cups are difficult to recycle because they are made from high-quality paper fibre that is tightly fused with a polyethene liner, which is hard to separate. However, BPR has teamed up with James Cropper Mill to recycle these into paper and packaging that come in various colours.
Other waste streams:  In addition to those mentioned above construction waste, glass, cans and wood are also collected for recycling at the BPR MRF at Purfleet. 
What about the rest?
Waste that is not recycled here is sent to a secondary MRF with greater automation to recover and recycle at a more refined level; any unrecycled waste is sent to energy from waste plants including a cement plant that uses the waste to generate high-grade heat for its processes.
The site visit helped us to better understand what happens to the waste after it leaves the site, the complexities associated with waste management and the vast range of opportunities that exist through recycling. We learnt that contamination continues to be one of the biggest challenges for MRFs. The responsibility to reduce this sits with property owners and managers through their engagement with occupiers to maximise segregation opportunities and the quality of waste. 
We would like to thank BPR Group and their wonderful team and look forward to building on the success of this trip to organise similar visits later this year.