Transforming our portfolio to net zero carbon by 2030.
Environmentally, we will accelerate the reduction of embodied carbon in our developments, which typically represents around half our annual carbon footprint. To this end, we have already committed to prioritise retrofit above new build, trial new materials and employ circular economy principles.
Underpinning our commitment, from April 2020 any remaining embodied carbon emissions will be offset, meaning every development we deliver from now on will be net zero.
To drive improvement across our operational portfolio, we are creating a bespoke Transition Fund. This will finance our journey to operational net zero carbon, imposing an actual financial cost of carbon on every development to create the ringfenced capital we require to become net zero carbon nationwide by 2030.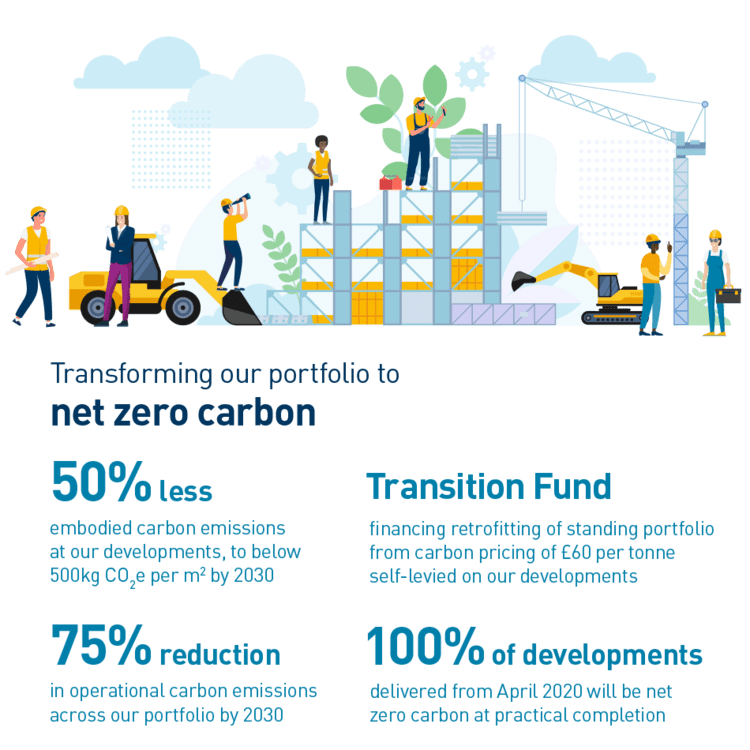 We will report progress on our new 2030 strategy from May 2021. For an overview of performance on our earlier 2020 strategy, see Performance. For detailed performance review and data, see Reporting.
This text and imagery has been reproduced from the British Land website.