Orchard Street Investment Management
Established in 2004, Orchard Street acts on behalf of institutional clients to advise on investing in and the active management of UK commercial property assets. We have £3.9 billion of assets under management (as at 30 September 2022) and have invested £1.4 billion over the last 7 years. Given our belief that responsible real estate investing delivers performance, we consider the creation and stewardship of sustainable portfolios as part of our fiduciary duty to our clients and their beneficiaries. We scrutinise the ESG credentials of assets on acquisition, in business plans and upon exit, identifying opportunities for ESG improvements that improve value, letting potential and resilience to expected future regulation. Our active asset management enables us to make a positive contribution to the sustainability of our assets under management.
Our strategic approach to responsible investing has been nurtured since the introduction of our first responsible investment strategy in 2017, to embed effective processes and policies and develop the skills required to realise our responsible investment objectives throughout the business. Effective engagement and collaboration with our key stakeholders - clients, occupiers, suppliers, employees and shareholders is critical to our approach.
We have established four "Pillars" of our Responsible Investment Strategy - Transition to Net Zero and Build Climate Resilience, Enrich Biodiversity and Increase Circularity, Provide High Quality Buildings, Promote Inclusive and Fair Business Practices. Each Pillar has targets and key performance indicators (KPIs) through to 2025. This provides a 3 year timeline of our commitments for the business to deliver meaningful progress based on the extensive research we have completed to identify risks and opportunities. Externally assured progress against the targets will be reported annually through to 2025.
In setting our Strategy we seek to support the outcomes of the United Nations Sustainable Development Goals (SDGs) which defines its aim as providing a "blueprint for dignity, peace and prosperity for people and the planet, now and in the future". In total, the four Pillars of our Responsible Investment Strategy contribute to two primary UN SDGs - 11 Sustainable Cities and Communities and 17 Partnership for the Goals - and eight secondary SDGs.
We are proud to be signatories of the Better Buildings Partnership Climate Commitment and to be amongst the foremost real estate investment managers in committing by 2030 to achieve net zero carbon for landlord, refurbishment, and our own corporate emissions. We have set interim targets to drive our progress on this existing commitment and review these every five years, with full detail provided in our Net Zero Carbon Pathway. We shall expand the scope of our net zero carbon commitment for the period from 2040 onwards to include occupier emissions from energy and occupier fit outs. The first of our four Pillars centres on delivering our Net Zero transition. Full details on the workstreams to implement our four Pillars is provided in our 2022 Responsible Investment Report.
Our annual Responsible Investment Report provides a full and transparent view of our responsible investment activities and performance in 2022. Our reporting is aligned to the recommendations of the Taskforce on Climate-Related Financial Disclosures.
View our Net Zero Carbon Pathway here and 2022 progress report here.
Key Facts
4/5 STARS on most recent UN PRI results (Investment and Stewardship Policy and Direct – Real Estate)
1.9 MW of solar PV capacity installed, targeting 4MW by 2025 (as at August 2023)
£400 million Impact investment fund launched in 2022. The Orchard Street Social and Environmental Impact Partnership targets real estate investment opportunities across three impact areas: (1) decarbonising existing buildings, (2) investing in local communities and responding to local social issues and (3) making buildings healthier for those that live and work in them.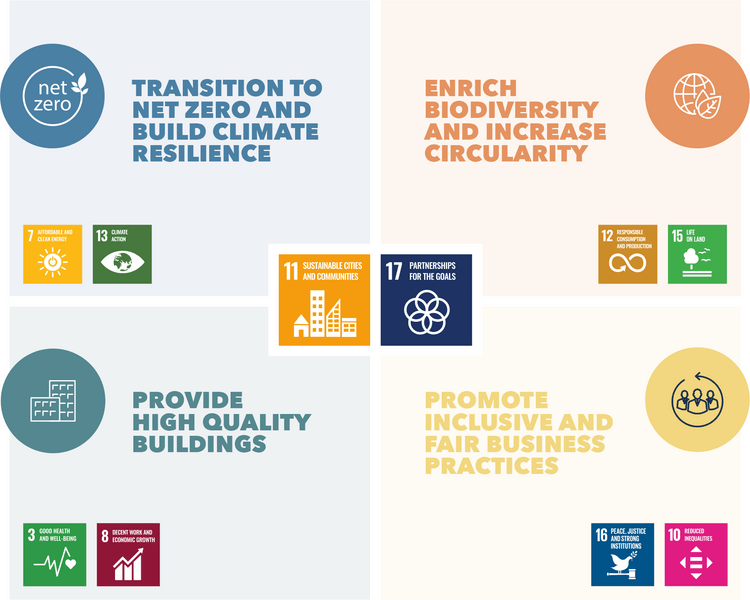 "The relationship between ESG and real estate investing in the UK has changed fundamentally in the last decade. ESG initiatives such as net zero carbon strategies and responsible procurement practices once considered 'nice to have' have become essential to fulfil client expectations, raise capital and meet current and future regulatory requirements. We increasingly see large occupiers in the office, industrial and retail sectors
engaging on ESG features in a more meaningful way, and investors considering stranded asset risk in their investment strategies. Orchard Street's voice and engagement with the industry has evolved with these changes. We have both the conviction and duty to demonstrate to the market how real estate investing that includes robust and ambitious ESG integration increasingly drives superior performance."

Philip Gadsden, Managing Partner at Orchard Street Investment Management
*Please note that the information on this page was supplied by the MAP Member and the BBP assumes no responsibility or liability for any errors or omissions in the content