abrdn pioneers nature-based solutions in the UK
14 December 2022
abrdn pioneers nature-based solutions in the UK
14 December 2022
The abrdn Property Income Trust (aPIT), one of abrdn's real assets investment strategies, has launched one of the largest native woodland and peatland restoration projects in the UK, at Far Ralia Estate in Scotland's Cairngorms National Park. This pioneering project will maximise environmental and social co-benefits, alongside climate impact. The land extends across more than 1,400 hectares – the size of nearly 2,000 football pitches. Works will include planting at least 1.5 million trees, focusing on native species such as Scots Pine, Oak and Birch.
Key Facts
Creating 850+ hectares of native woodland and restoring 150+ hectares of degraded peatland
Removing, reducing and avoiding over 300,000 tonnes of carbon from the atmosphere
Supporting local jobs and improving amenities for the community
Situation
abrdn is a global investment company. Environmental, social and governance considerations have been an integral part of its decision-making process for almost 30 years. abrdn is a founding signatory to the BBP Climate Commitment, with a target of net zero by 2050.
When abrdn modelled its pathway to net zero, it identified that – even doing everything possible to reduce emissions across its real estate portfolio – there would still be residual carbon. The Net Zero Asset Managers initiative has highlighted that to achieve a 1.5ºC pathway, investment in carbon removal and negative emissions technologies will be complementary to reduction activities and necessary to accelerate progress.
abrdn also recognises that there is a nature crisis. The WWF's Living Planet Report 2022 finds wildlife populations have declined by an average 69% in the past 50 years. Given that the climate and nature emergencies are inextricably linked, abrdn looked at innovative solutions that would not only support progress to net zero, but also help to reverse biodiversity decline. One way to do this is to invest in nature-based solutions.
To ensure any nature-based investments target and achieve a positive climate, nature and social impact, abrdn set seven principles for high-integrity nature-based investing. These are aligned and supportive of the Scottish Government's Interim Principles for Responsible Investment in Natural Capital.
Pioneering this approach, aPIT acquired a significant area of land within the Cairngorms National Park in 2021. This land, which was in private ownership, is open moorland and was used primarily for red grouse shooting and deer stalking, with limited grazing. The land had no agricultural value. aPIT commissioned peatland surveys and breeding-bird surveys before completing the purchase, to inform the ecological restoration plan and assess risks.
Actions
Nature recovery
Using both woodland creation and natural regeneration, aPIT is establishing biodiverse native woodland across more than 850 hectares and restoring over 150 hectares of degraded peatland. Working with Scottish forestry partner Akre, over 1.5 million trees will be planted, focusing on native broadleaf and Scots Pine. Akre has already begun seed collection from the site to ensure the provenance and genetic integrity of the woodland. The trees from these seeds will be grown in the firm's carbon-negative nursery in Fife, before returning to the site over the next few years. On open and unplanted land, aPIT will allow nature to recover with minimal intervention, to promote further biodiversity gains.
Reversing biodiversity decline
In addition to working with ecologists to monitor and report biodiversity net gain at Far Ralia, abrdn formed a partnership with EY and the Natural History Museum to pilot the museum's science-based Biodiversity Intactness Index. This uses the most comprehensive evidence base of its kind to score the health of nature, drawing on ecological studies from around the world, alongside robust, peer-reviewed methodology. It is aligned with the planetary boundaries model.
The Index scores each area between 0% and 100%, based on the estimated percentage and abundance of original species that remain. Areas where biodiversity is intact score 100%. Such environments are incredibly rare. Areas scoring 90% or above have enough biodiversity for a resilient and functioning ecosystem. Below 90%, ecosystems may function less well and less reliably. At 30% or below, ecosystems risk collapse.
Baseline analysis revealed that Far Ralia's current score is just less than 52%, which is below the UK average of 53%. After planned restoration works, the predicted score will reach 94% over the long term (>75 years).
Doug Gurr of the Natural History Museum: "I congratulate abrdn on their thoughtful and long-term approach to the stewardship of this important land asset. As the data clearly shows, we can begin to restore biodiversity and help mend our broken planet."
Social impact
Between 50 and 100 people will be employed in restoration works over the next six years, creating a woodland that can be enjoyed by all. This will boost the local economy, as aPIT will employ local contractors and forestry consultants to deliver the project wherever possible. Planned additional benefits for the local community include improved access and amenities, through building paths, introducing birdwatching huts and restoring bothies for hillwalkers. aPIT is also looking to engage with local schools and universities to host visits and offer volunteering opportunities.
Climate action
The restoration of Far Ralia will remove carbon from the atmosphere, generating verified credits that aPIT can use to 'inset' residual carbon across its real estate portfolio, having first reduced emissions as low as possible. As shown in Figure 1, woodland creation at Far Ralia will remove a relatively low amount of verified carbon during the first 15 years, followed by substantial carbon units over the following 40 years and beyond. Outputs were modelled using the UK Government's Woodland Carbon Code methodology and calculator. The peatland restoration will generate claimable carbon units in a linear manner after five years and then every ten years.
Figure 1. Projected verified carbon curve from large-scale woodland creation at Far Ralia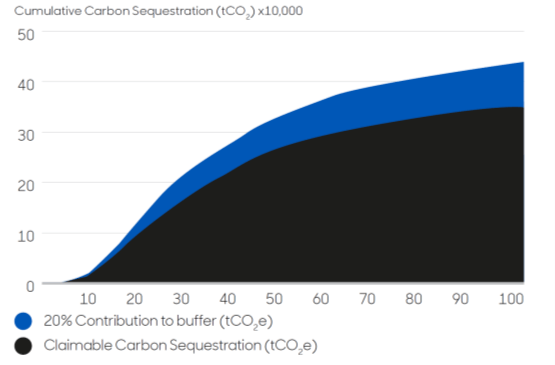 Financial
aPIT reviewed cash flows and project risks for Far Ralia in detail pre-acquisition. The estimated cost of carbon credits generated at Far Ralia is £22 per tonne on a discounted cash flow basis. With offsets on the Voluntary Carbon Market expected to cost $30-100 per tonne by 2030, Far Ralia de-risks decarbonisation for aPIT and should offer cost savings over the long term. It will significantly assist in neutralising forecast residual embodied and operational emissions.
Any surplus units can be sold on the Voluntary Carbon Market. Given the forecast increase in carbon credit prices, this will reduce the net cost of carbon insetting to an attractively low level. Alternatively, in the event that all units were to be sold if surplus to requirements, this could deliver an internal rate of return (IRR) of over 6%, in addition to environmental and social co-benefits. More mechanisms for valuing nature-based solutions for climate change are also likely to be introduced, alongside carbon credits, to attribute financial values to nature recovery.
Benefits
Climate impact
Carbon reduction, removing around 150,000 tonnes of carbon up to 2060 and over 350,000 tonnes in total over the project life.
Flood mitigation benefits.
Wider ecosystem services
Habitat enhancement, with improved biodiversity and species abundance.
Better soil quality and erosion protection.
Enhanced air quality.
Improved water quality and waterflow regulation.
Health and wellbeing
Better access to nature and associated wellbeing benefits.
Enhanced air quality for surrounding communities.
Improved water quality for downstream communities.
Communities
Boost for the local economy, through employing local contractors, forestry consultants and wildlife rangers.
Improved amenity for the local community, including birdwatching huts and bothies for hillwalkers.
Engagement opportunities with local communities, including residents, businesses, schools and universities.
Reduced risk of flooding for downstream communities.
Renwick Drysdale of Akre: "We have been working closely with key stakeholders for over a year to design our science-based native woodland and peatland restoration plan. We see this as a landmark step for the use of private capital in enhancing and regenerating the landscape. If we are to deal with the twin threats of climate change and biodiversity loss, while improving the landscape, we need business and government working together with local communities and experts to deliver meaningful and ecologically sensitive change. We are delighted to be working with abrdn Property Income Trust on our mission to help shift the economy from extractive to regenerative."
Challenges and Achievements
TIMESCALE
How do you justify investment against longer term timescales?
Nature cannot be rushed – investments in nature-based solutions are long term. Given the biological growth rate of trees and the disruption of soil when creating woodland, it takes time to generate verified carbon units and meaningful biodiversity and social co-benefits. The timescales for Far Ralia are well-aligned to aPIT's 2050 net zero carbon commitment. It was also important to be able to show robust financial modelling to demonstrate the longer-term benefits and justify the purchase of a non-income producing asset. It progressed through abrdn's standard pre-acquisition due-diligence process and investment committee, with additional focus on risks and risk mitigation, as it was a new type of investment for the business. This included engagement with abrdn's sustainability team and external experts.

REPUTATION
How do you prevent greenwashing misperceptions?
Not all companies approach sustainability in the right way. This can damage the perception of those, like aPIT, who are committed to responsible investment, putting environmental and social considerations and good governance at the heart of decision-making. At Far Ralia, aPIT is working with local partners and experts to maximise environmental and social co-benefits, alongside climate impact. This includes engaging with the Cairngorms National Park, Scottish Forestry, the RSPB, local ecologists, forestry partners and the local community. Other models for future nature-based solutions could include co-investment with local communities and existing owners. aPIT has taken a bold first step that will bring diverse environmental and social benefits and will continue to learn along the journey to ensure its investments adhere to the strong environmental, social and governance standards required to help shift the economy from extractive to regenerative.

*Please note that the information on this page was supplied by the MAP Member and the BBP assumes no responsibility or liability for any errors or omissions in the content