The Better Buildings Partnership (BBP) has today published the latest results from its Real Estate Environmental Benchmark (REEB), which captures trends in operational performance from some of the largest commercial property owners in the UK.  
The results are published in two publicly available reports on the BBP's website:  
The Real Estate Environmental Benchmark (REEB) is one of the only benchmarks based on the performance of buildings 'in-use' and is increasingly becoming the industry standard used by investors, fund managers and property owners to compare the performance of commercial properties across the UK. The REEB dataset continues to grow, with a 171% increase in floor area over the last 10 years and a total of 1142 properties benchmarked in 2019/20.  In 2020, for the first time, five members of the Managing Agents Partnership (MAP) submitted data as part of a pilot to trial their involvement in REEB. 
Analysis of the performance of properties from a total of 36 BBP and MAP members, reveals that:  
The energy intensity of properties submitted to REEB continues to improve year-on-year, achieving a 27% improvement over the past 10 years and a 4% improvement between 2018/19 and 2019/20.   
There remains little evidence of a clear relationship between Energy Performance Certificates (EPCs) and performance in use. Whilst the percentage of EPC A & B rated offices has increased to 22%, this means that 78% are rated C or lower, indicating that investment in improvements will be required for compliance with the Minimum Energy Efficiency Standard of EPC B by 2030.  
When considering progress towards net zero, 97% of the offices within REEB currently fall short of the UKGBC Energy Use Intensity (EUI) targets for 2035-50. This indicates that rates of reduction will need to accelerate over the coming years alongside grid decarbonisation if existing commercial buildings are to fulfil their net zero ambitions. 
Based on the annual utility consumption data of the commercial property portfolios of BBP members, REEB provides energy and water performance benchmarks for offices, shopping centres, shopping villages, retail parks, leisure parks, industrial parks and car parks, which can be used by others to compare the performance of their buildings. With the permission of BBP members, the REEB data is also made available on an anonymous basis to help inform sector-wide initiatives and support a wide range of research projects in this important field. The REEB data provided vital evidence to support the BBP led Design for Performance and launch of the NABERS UK scheme this year. REEB was also widely referenced in the recent BEIS consultation on performance in use (for the BBP's response to this consultation see here). 
Sarah Ratcliffe, CEO of the Better Buildings Partnership said: "These latest results from REEB show a sustained improvement in energy performance over the last 10 years from BBP members - this is significant and important progress from leaders in the industry. However, it is clear that for commercial properties to demonstrate that they are on the pathway to net zero will require a step change in efforts to improve energy efficiency. The REEB dataset provides a vital insight into the scale of the challenge." 
Quinten Babcock, Environmental Manager at Transport for London and Chair of the BBP Benchmarking Working Group said: "Now more than ever, we need to track our energy efficiency progress against our peers and our own net zero carbon targets. The annual REEB process allows us to gauge that progress and continue to work together to take on the NZC challenges that the whole industry faces." 
Carl Brooks, Head of Sustainability – Property Management at CBRE said: "REEB continues to offer a valuable insight into the performance of operational real estate assets across the country and a yardstick against which to assess the energy use intensity of properties against their peers.  At the Managing Agents Partnership we have been pleased to have been given the opportunity to contribute a wider data set which should in turn lead to a more representative set of benchmarks that more closely reflect the performance of commercial property across the UK." 
Fernanda Amemiya, Sustainability Director – Environment & Reporting at Landsec said: "REEB plays a key role in tracking how the sector is transitioning to net zero and it's an important tool to drive action. Comparing the operational energy performance of each of our assets against peers and REEB helps us to identify and prioritise assets for energy efficiency initiatives."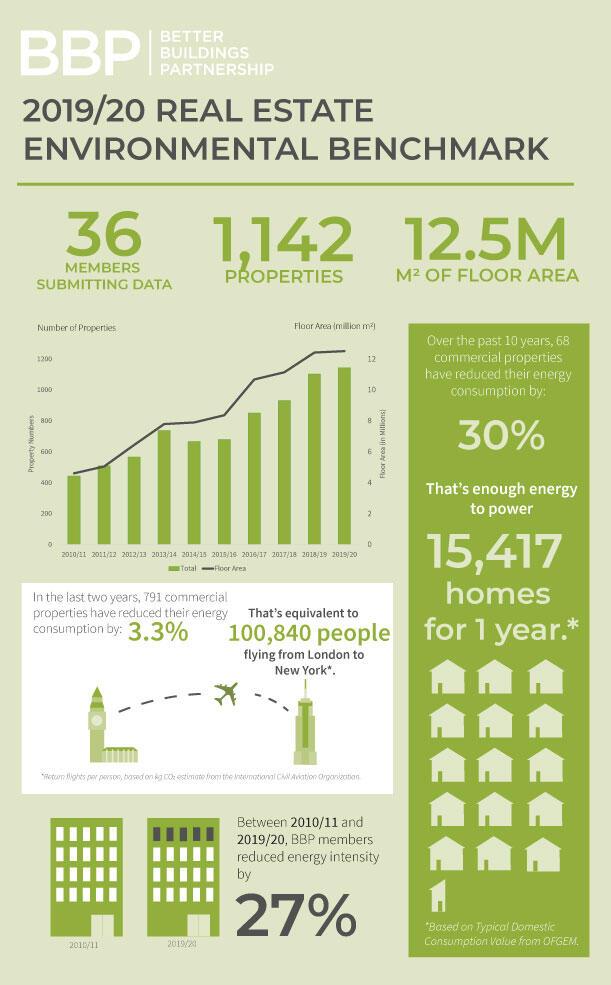 Notes to Editors 
BETTER BUILDINGS PARTNERSHIP 
The Better Buildings Partnership (BBP) is a not for profit collaboration of the UK's leading property owners who are working together to improve the sustainability of the UK's existing commercial buildings. The organisation's aim is to deliver market transformation through sustainability leadership and knowledge sharing across the UK property industry. The BBP currently has 44 members who represent in excess of £270bn Assets Under Management (AUM). 
Participants in the 2019/20 REEB Survey are as follows: Aberdeen Standard Investments; Aviva Investors; Blackstone; BMO Real Estate; British Land; Bruntwood; Canary Wharf Group; CBRE; CLS Holdings plc; Derwent London; DWS; Frasers Property; Great Portland Estates; Grosvenor; Hammerson; Federated Hermes; Intu; JLL; Lambert Smith Hampton; Landsec; LaSalle Investment Management; Legal & General Investment Management; Lendlease; Low Carbon Workplace; M&G Real Estate; MAPP; Norges Bank Investment Management; Schroders; SEGRO; Nuveen Real Estate; Royal London Asset Management; Shaftesbury; The Crown Estate; Transport for London; Workman Retail; Workspace. 
For more information on REEB see here.