The toolkit provides 55 Guidance Notes across 13 topics, identified by Better Building Partnership and Managing Agent Partnership members as being relevant to responsible property management. 
The toolkit describes the management processes at company, portfolio and property levels that contribute towards the inclusion of each topic as part of responsible property management. 
Each topic provides a range of resources, presented in a common format: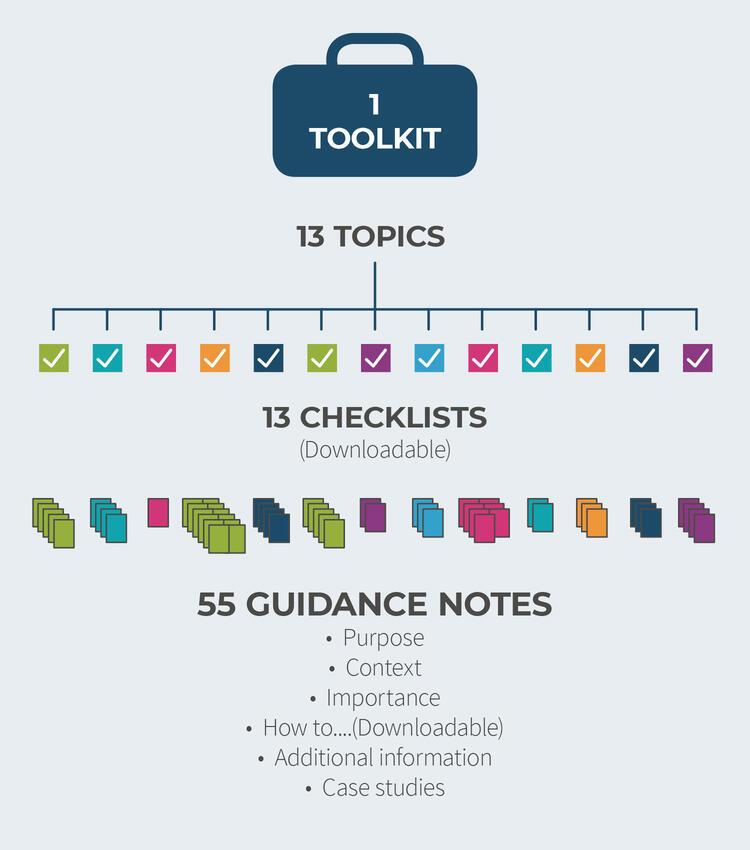 Checklists:
The checklists describe actions to consider in relation to the management of each topic.  Designed as practical reference material, the checklists are structured around a standard management cycle. 
Each checklist is available to download as a designed pdf within each topic landing page and as a compendium of all 13 topics here. 
Guidance Notes:
The Guidance Notes describe detailed activities associated with the management of specific subjects within each topic. 
The Guidance Notes cross-reference supplementary Better Building Partnership and Managing Agent Partnership publications, and provide a navigation tool to indicate areas of interest for those with asset, property and facilities management responsibilities. 
While actions will be undertaken across asset, property and facilities management roles, individual companies should consider how to organise responsibilities within their own company. 
The information within the Guidance Notes is structured into six sections: 
Guidance Note purpose 
Context and drivers 
Responsibilities 
How to… 
Further information 
Case studies 
Each 'How to….' section is available to download as a designed pdf and as a compendium of all 55 'How to…' guides here. 
History 
This Responsible Property Management Toolkit builds on the Management Agent Sustainability Toolkit, published in 2016 by: 
Widening the primary audience to include property, asset and facilities managers 
Expanding the scope to include sustainability issues beyond core environmental topics 
Updating the content to reflect regulatory developments and current sustainability thinking 
The toolkit supports continual improvement in embedding sustainability within property management by moving beyond the core provisions, as described in the Better Building Partnerships 2016 publication, 'Integrating Sustainability into Property Management Services: Core Provisions'. 
Contribute Content:
If you have any content you would like to contribute to the Responsible Property Management Toolkit, please forward the content across to Sophia: s.tysoe@betterbuildingspartnership.co.uk
Content you can contribute includes:
Guidance Note amendments
Case Studies for Guidance Notes
Checklist Amendments
Links to Related Publications and Resources
---
Disclaimer: This Toolkit has been published in good faith by the Better Buildings Partnership (BBP), and shall not incur any liability or any action or omission arising out of any reliance being placed on the Toolkit by any organisation or other person. Any organisation or other person using this Toolkit should take their own legal financial and other relevant provision advice when considering what action (if any) in respect of any proposal, design or other involvement with any property management process, or before placing any reliance on anything contained therein. By acting on any information included within the Toolkit, any party relaying on it accepts that no individual is personally liable in contract, tort, or breach of statutory duty (including negligence).
While steps have been taken to ensure its accuracy, the Better Buildings Partnership cannot be held liable to any person for any loss or damage arising out of or in connection with the information in this Toolkit being inaccurate, incomplete or misleading. The listing or featuring of a particular product or organisation does not constitute an endorsement by the BBP, and the BBP cannot guarantee the performance of individual products or materials. For more details refer to our Terms & Conditions on our website.