Aberdeen Standard Investments' Airport Industrial Property Unit Trust (AIPUT) has established a strategic target to achieve carbon neutrality by 2025. AIPUT will work closely with teams across its business and supply chain to embed the objective in all decision making, as well as partnering with occupiers. Initiatives include enhanced warehouse design, solar PV installations and improving operational efficiency.
Significantly reducing AIPUT's carbon footprint
Reducing operating costs for occupiers and supporting their ESG goals
Helping make airports cleaner, safer and vibrant for local communities
Futureproofing assets for the long term
Situation
As a long-term responsible investor, Aberdeen Standard Investments (ASI) takes stewardship and environmental, social and governance (ESG) factors seriously.
ASI's Airport Industrial Property Unit Trust (AIPUT) is a specialist owner and manager of industrial property on and near major UK airports. AIPUT has 18 years' experience owning and managing warehouses at Heathrow and other major UK airports, embracing a responsible long-term investment approach. The occupier base includes airlines, cargo handlers, freight forwarders, airline catering and specialist airport-related services. AIPUT has achieved GRESB Green Star status in each of the last five years.
In 2018, AIPUT investigated how it could play a meaningful role in helping the aviation sector act on CO2 emissions. Key drivers included:
Mounting evidence of the human influence on climate change, which is driving a transition to a low-carbon economy, with many countries, sectors and companies making commitments and taking action.
Growing interest from occupiers in reducing CO2 emissions, with most businesses in AIPUT space servicing airlines that are increasingly focusing on tackling this issue in their business and supply chain.
Investors increasingly seeking a more demonstrable ESG framework and decision-making culture from their investment managers.
Supporting UK government and airport initiatives to transition to a zero-carbon economy, e.g. Heathrow 2.0 Carbon Neutral Growth Plan goal to be a zero-carbon airport by 2050.
As a result, AIPUT has launched a target to be recognised as a carbon neutral fund by 2025. This will involve AIPUT reducing CO2 emissions from the property portfolio and associated activity to as close to zero as possible over the next five years. An internal carbon price will be set and the resulting Carbon Innovation Fund reinvested in the portfolio to deliver further savings. Any residual emissions will be offset through 'Gold Standard' carbon credits in 2025.
Actions
AIPUT first established its baseline carbon footprint, estimated to be 10,680 tonnes of CO2 per year.
Emission sources included:
Fuels purchased by AIPUT in stationary sources within buildings, vehicles and voids.
Electricity purchased by AIPUT for landlord areas and equipment.
Electricity purchased by occupiers.
Fuels purchased by occupiers for use on site.
AIPUT business travel.
Embodied carbon of new construction projects (none included in the baseline).
Emission sources excluded:
Occupier vehicles – commuting.
Occupier vehicles – airport usage.
AIPUT advisors' vehicles.
ASI corporate and advisors' office energy consumption.
Embodied carbon of refurbishment projects.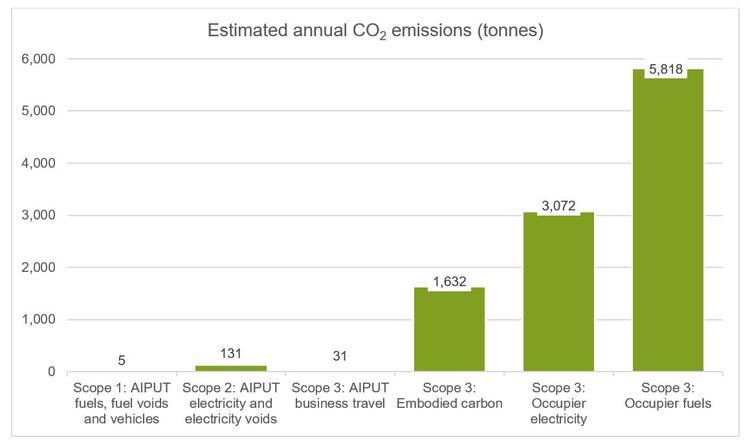 Informed by the carbon footprint data, AIPUT has developed an emissions reduction plan for an initial five-year period to 2023, so that the new culture and framework are embedded by 2025. The focus is on major emission sources where AIPUT can have an impact. Scope 3 emissions comprise 98.7% of AIPUT's footprint, mainly arising from occupier energy and fuel use, as well as embodied carbon from new developments.
Prior to establishing the target, the AIPUT team stress tested it with property managers, portfolio managers, designers, developers and advisors, as well as investors, occupiers and other stakeholders. Their supportive response was encouraging.
AIPUT is now working with environmental specialist consultant WSP to implement the plan, engaging closely with teams across the business, supplier partners and occupiers.
Key initiatives include:
Enhanced warehouse design to minimise embodied carbon: This includes specifying low-carbon materials, such as concrete with higher recycled content. Cement, the key ingredient within concrete, is the source of an estimated 8% of the world's CO2 emissions. AIPUT is ensuring that recycled content is written into contracts, so that suppliers quote on that basis, as there is a small cost implication. AIPUT will also look to adopt circular principles in structural design in future projects to ensure assets are flexible and elements are re-usable.
Solar PV installations: AIPUT is drawing on ASI's extensive experience installing rooftop solar PV arrays, both on existing properties and on new developments. AIPUT finances the arrays and engages with occupiers to secure their agreement to purchase the clean power generated. On new developments, AIPUT fits rails to rooftops, to which panels can then be attached. Occupiers typically remain in control of the roof, with AIPUT taking on responsibility for small touch points where panels or rails are in contact. AIPUT also maintains panels, ensuring they are properly cleaned to maximise power generation.
Automated transport and logistics technology: AIPUT is working with occupiers and partners to build automated technology into site masterplans. This has the potential not only to reduce emissions but to transform the way airports work, improving efficiency and productivity across a range of airport functions, such as cargo handling, logistics operations and passenger transportation. At Gatwick, 90% of airside vehicles are stationary at any one time, which is both hugely inefficient and demands a vast amount of space. A smaller pool of electric-powered autonomous vehicles would reduce emissions, improve safety, cut costs and free up land. In Düsseldorf, a robotic car parking system has reduced required parking space by 60% compared to human drivers. As in many fields of technological development, airports are providing the testbed for a plethora of autonomous applications.
Initiatives to improve operational energy efficiency: These will include replacing traditional lighting with energy efficient LED fittings, upgrading lighting controls, efficient plant replacement choices and fabric improvements.
Each year, AIPUT will review its carbon emissions and apply a carbon price to ring-fence a sum of money to support abatement projects.
In 2025, AIPUT will offset any residual emissions using 'Gold Standard' credits. The intention is to minimise the need for offsets as much as possible.
AIPUT will follow the guidance set out in the internationally applicable PAS 2060 specification for the demonstration of carbon neutrality. This will support stakeholder confidence in the framework and best practice approach.
Benefits
Cutting CO2 emissions and supporting the transition to a low-carbon economy.
Reducing vehicle use, making airports cleaner and safer places for airport users and local communities.
Creating better places to work, empowering occupiers and their staff.
Operational and financial efficiencies for occupiers, reducing occupancy costs over the lease term.
Releasing strategic land for alternative uses, unlocking value for occupiers and opening up opportunities.
Futureproofing the AIPUT portfolio and investor returns for the long term.
Supporting the sustainability goals of ASI, occupiers and other stakeholders.
Challenges & Achievements
TEAM
How to embed carbon neutrality into all decision making?
Having engaged with the AIPUT team and supplier partners on the carbon neutral target before it was established, ASI's Head of ESG, Real Estate, AIPUT's Fund Manager and WSP then held an initial training workshop for portfolio managers once the plan was launched. Together, they explored some of the plans in detail. Informed by this, they will roll out workshops for the wider team and partners in the coming year, so that everyone understands AIPUT's expectations, shares their vision and pulls in the same direction. For suppliers, some requirements will be formalised through policies and contracts. ASI's sustainability policies are already written into contract agreements with suppliers. These will be expanded for the AIPUT portfolio. However, the main focus for the first year is on engagement to embed carbon neutrality into decision making at every stage. For instance, so that property managers have operational efficiency on their radar when they engage with occupiers; and that project managers consider new practices, materials and technologies to reduce environmental impacts on every new development and refurbishment project.
OCCUPIERS
How to engage with occupiers on carbon neutrality?
Businesses serving the airline sector tend to be environmentally conscious, often with corporate objectives and strategies to reduce emissions. AIPUT has sent a short survey to occupiers to gain insights into their low-carbon aspirations and gauge interest in collaboration on low-carbon initiatives. This will inform AIPUT's activities in the coming year, helping them prioritise opportunities for occupier partnerships. They are also engaging with occupiers on solar PV opportunities, explaining how the installation and maintenance would be managed without impacting occupier operations and securing agreement to purchase the clean power generated. Over the medium-term, there are exciting future opportunities for AIPUT to support occupiers in improving operational efficiency, sharing best practice from across the portfolio.