Aberdeen Standard Investments has partnered with KJ Tait Engineers to trial Ecopilot at One Trinity Gardens in Newcastle. In addition to enabling energy and carbon savings, the pilot project has identified opportunities to improve the working environment for occupiers, connecting various building systems so they work collaboratively together and making greater use of the building's thermal storage capability. Building on this success, the team is now progressing opportunities for wider rollout.
29% less gas use and 15.4% electricity savings
Opportunities to improve indoor climate for wellbeing and productivity
Greater insight into how the building is running
Situation
Aberdeen Standard Investments (ASI) is dialling up integration of environmental, social and governance (ESG) into real estate management through its bespoke ESG Impact Dial. This focuses on four forces that ASI believes are affecting global real estate investment, including changing environment and climate. KJ Tait Engineers provides mechanical and electrical building services for several ASI buildings. To support ESG goals, ASI and KJ Tait agreed to trial Ecopilot at One Trinity Gardens in Newcastle.
Ecopilot was developed at KTH Royal Institute of Technology in Stockholm. It coordinates how heating, ventilation, air conditioning and cooling (HVAC) systems work together, taking into account the building's thermal storage capacity, along with indoor temperatures and air quality. It also imports local weather forecast data, including sunshine hours, temperatures, wind speed and wind direction. This data is used to optimise how the connected HVAC systems operate for efficiency and comfort, looking up to five days ahead.
One Trinity Gardens is a 14,500m2 multi-let office building managed by JLL. Engie provides Building Management System (BMS) services. It was already a well performing building for energy efficiency, outperforming the REEB good practice benchmark for electricity consumption and typical practice benchmark for gas consumption, with the potential to achieve the UK GBC target of 70kWh per m2 by 2025. This made it a good place to test Ecopilot for wider rollout.
Actions
Ecopilot went live at One Trinity Gardens in November 2019. E.ON Controls Solutions Ltd completed the installation and produced a commissioning report, which identified upgrade opportunities and suggestions relating to specific Air Handling Units (AHUs). These have since been investigated and approved as appropriate. Actions include fixing air temperature and air pressure sensors, investigating setpoints for underfloor heating and cooling controls, and testing the supply air flow switch.
Ecopilot then provided detailed reports on conditions in the building for the first two days after switch-on, identifying concerns relating to AHUs and Fan Coil Units (FCUs). KJ Tait investigated these and is progressing solutions with ASI, JLL and Engie as appropriate. This resulted in a significant issue with chiller operation being identified and addressed. The chiller was cycling on and off 24/7, in winter in Newcastle, when little cooling should be needed. Investigation revealed that faulty controllers and actuators on FCUs were overheating spaces on two floors, and the chiller was then turning on to cool these spaces back down. The faulty components are now being replaced, which will deliver substantial electricity savings and contribute to a better working environment for occupiers, with a more consistent indoor climate that supports wellbeing and productivity.
On an ongoing basis, everyone involved can now log onto an online platform to see what is going on in the building, checking temperatures and confirming what plant is operational at any time. This is shortening lines of communication and making it easier for the team to address issues quickly. For instance, if an occupier logs a comment about temperatures being too high or too low, this feedback reaches KJ Tait directly via the online platform. They can then investigate, checking temperatures, reviewing boilers and chiller run times and taking action as needed, such as replacing faulty components, adjusting set points and fine-tuning run times.
The online platform is also feeding into maintenance strategies. For instance, the building has a duty pump and a standby pump that contractors should change over every week. Now, the run times for each pump can easily be checked remotely and any issues investigated and resolved, helping extend the lifespan of the pumps.
Building on the success of this trial, ASI and KJ Tait are now investigating the rollout of Ecopilot in additional locations, starting with two London office buildings.
Financial
Return on investment within 12 months.
Investment was forward funded by ASI and will be recouped through service charge savings.
The committed energy cost savings are guaranteed via a third-party insurance contract.
Benefits
Energy and carbon savings
Performance in the first 12 months show a 29% reduction in gas use and 15% reduction in electricity use versus the baseline year. With additional improvements in the pipeline, the ongoing savings are now on track to exceed expectations and achieve the UKGBC 2025 Net Zero Carbon benchmark. This performance supports the low carbon goals of Aberdeen Standard Investments, occupiers and the wider society.
*As part of the verification process, KJ Tait Engineers analysed the historical building and tenant consumptions versus the first 12 months since Ecopilot was integrated into the BMS. They then eliminated the reductions delivered from COVID related occupancy reductions, to ensure the results only showed the savings that could be attributed to this project. These confirmed that Ecopilot had significantly overachieved against the savings it originally promised to deliver.

Wellbeing and productivity
As the chiller works and other improvements are completed, the indoor climate will be noticeably more even, providing a more pleasant environment for occupiers and supporting wellbeing and productivity. The building team has greater visibility of how the building is operating, so they can proactively manage the indoor environment, controlling the connected HVAC systems with a longer-term view rather than knee jerk reactions to immediate climate variations.
Graph 1: Monthly gas consumption at One Trinity Gardens before and after the Ecopilot installation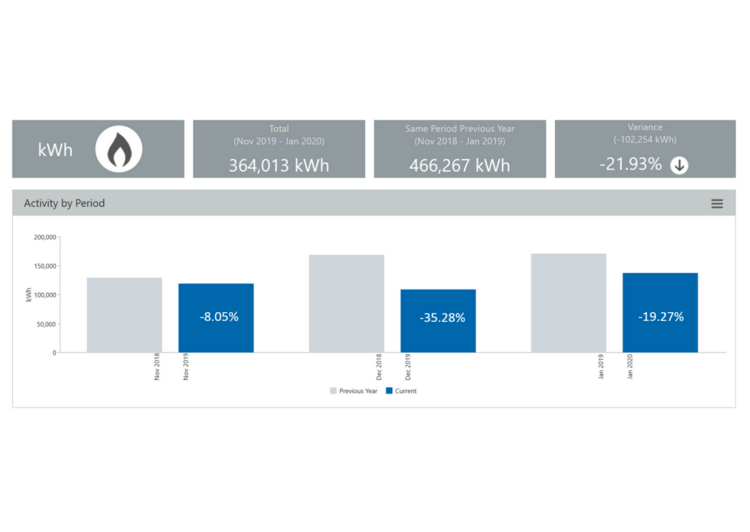 Paul Miller of KJ Tait Engineers: "From an energy management point of view, Ecopilot allows us to reduce the energy consumption of buildings; for instance, by reducing the overlap of when boilers and chillers operate automatically. In addition, the device allows us to go further and investigate the operation of the building as a whole. This remote visibility will allow us to optimise building energy consumption which will assist in Aberdeen Standard Investments' journey to Net Zero Carbon buildings."
Challenges & Achievements
INSTALLATION
What kind of technical challenges can come up during installation?
There were various connectivity issues at One Trinity Gardens. These included establishing a stable connection to electricity and gas meters, which were not previously linked to the BMS. Additional hardware was needed to connect the meters to Ecopilot, which proved time consuming to get third party energy suppliers to fit, even though it was a relatively simple job. In addition, the existing router was not adequate to support the new device and connections, and so needed to be upgraded. Some additional temperature sensors were also installed, while CO2 data for air quality was taken from the BMS. Addressing the connectivity issues added several months at the beginning of the project but, once installed, the project team acted swiftly to action savings and improvement opportunities.
OCCUPIERS
How to engage occupiers in building management pilots?
On the first project at One Trinity Gardens, ASI and KJ Tait engaged with the managing agent JLL, who led communication with occupiers. Once the online platform was up and running, this resulted in more direct engagement with occupiers about the new technology. It also resulted in opportunities to improve how occupier space operates for their people and their sustainability goals. On the next two projects, there has been earlier engagement with occupiers by ASI and KJ Tait, bringing them on board so they understand the goals and potential of the project from the outset, which will improve building performance and efficiency. After ASI has recouped its initial capital investment from energy cost savings, occupiers will benefit from future savings through the service charge.