Savills Investment Management and Aitchison Developments have partnered to transform a brownfield site into a business park designed for wellbeing and sustainability. Providing flexible space for diverse occupiers, Bourn Quarter in Cambridge will create new opportunities for small businesses to grow alongside multinationals, and life sciences and technology companies to coexist with logistics and industrial firms, encouraging cross-collaboration and driving innovation. 
Whole life net zero carbon – covering embodied and operational emissions
Designed in accordance with the WELL Building Standard principles
Targeting BREEAM Excellent sustainability ratings
Situation
Bourn Quarter is being developed on a 25-acre brownfield site, six miles west of Cambridge. It was previously home to aircraft hangars and a manufacturing facility. Savills Investment Management purchased the site on behalf of a discretionary pension fund client in January 2018 and has been working with Aitchison Developments as Development Manager in promoting the site for development. Prioritising wellbeing and sustainability, their shared vision for Bourn Quarter was to create a business park that exceeds the standard industrial park offer in every way, attracting diverse, quality businesses and their employees. 
The first phase was granted full planning permission in early 2021. It will create over 16,000m2 of commercial space in a mixture of tech space and industrial units, along with extensive green space and buildings that could provide a gym, restaurant, café, day nursery and crèche. There is also outline approval for the second phase, bringing the total permitted area to 26,757m2. Together these two phases span 21 acres, with the remaining four acres to follow in phase three. Adjacent to Bourn Quarter is a 3,500-home, mixed-use community development by Countryside Properties.
Actions
Concepts for Bourn Quarter were informed by earlier development projects delivered by Savills Investment Management, including Didcot Quarter in Oxford. The project team was also inspired by a visit to the High Tech Campus Eindhoven in the Netherlands, early in the design process.
Wellbeing and productivity
The buildings are designed in accordance with the WELL Building Standard principles. There are also 18,480m2 of landscaped green space, a running track, four fitness pods of gym equipment, 236 cycle spaces and links into local footpath and cycle networks, encouraging active lifestyles. The buildings offer a combination of natural and mechanical ventilation, attractive staircases positioned at building entrances and high performance glazing for natural daylight indoors and views out, with external fins that assist in shading. 
Net zero carbon
Guided by the UK Green Building Council's 'Net Zero Carbon Buildings: A Framework Definition', Bourn Quarter will achieve net zero by reducing embodied carbon, designing for efficiency, generating renewable energy on site and then investing in offsets and green energy to balance the difference.
Reducing embodied carbon
In the buildings, estimated embodied carbon savings of 25% will be achieved (651.5 tonnes) through 40% recycled content in structural steel frame, 40% recycled content in reinforcement and 30% recycled binders in concrete. 
In the hard landscaping, estimated embodied savings of 36% will be achieved (768 tonnes) through 20% reclaimed asphalt pavement in asphalt, 40-60% recycled content in steel as appropriate, and 40% ground granulated blast furnace slag (GGBS) in concrete or 40% recycled binders as appropriate.
Designing for efficiency
Passive and low-energy design measures will reduce carbon by an estimated 34%, versus Building Regulations 2013. These include:
A high performance building envelope, including glazing and cladding. Low building air leakage rate of 3m3/hr/m2 at 50 Pa – 70% better than 2013 Building Regulations requirements.
High efficiency equipment, including variable speed fans and pumps, LED lighting and automatic lighting control with occupancy and daylight dimming controls.
Energy metering that identifies end-use systems for at least 90% of consumption, so that heating, cooling, ventilation, pumps, lighting, small power and lifts can be managed for efficiency.
To encourage occupiers to operate buildings as net zero carbon, leases will include green clauses. License for alteration requests that would negatively affect Energy Performance Certificate (EPC) ratings will not be approved.
Renewable energy on site
Photovoltaic panels and air source heat pumps will fulfil an estimated 16% of energy demand on site. There will be 148m2 of photovoltaic panels across 15 units, with an approximate peak electrical output of 27.5 kWp and predicted annual carbon savings of 5.8 tonnes. The PV panels on each unit can be increased, and occupiers will be encouraged to install an appropriate number of panels according to their predicted usage. Air source heat pumps (variable refrigerant flow) will provide heating and cooling for office areas across all 15 units.
Offsetting the balance
Whilst the carbon footprint of Bourn Quarter has been significantly reduced, to achieve net zero, offsets will be required for remaining emissions:
A one-off offset for an estimated 6,181 tonnes of embodied carbon in construction, based on Stage 2 information.
An annual offset for an estimated 104.7 tonnes of operational carbon, based on 2020 conversion factors. This is forecast to reduce to zero by 2050 as the Grid decarbonises, as shown in the graph below.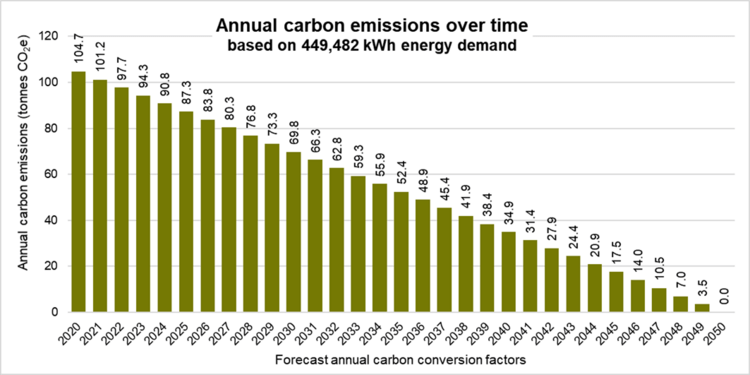 There will be a robust approach to offsetting, informed by the latest guidance in this emerging area. Whilst not a formal part of offsetting plans, on-site planting will also absorb carbon as it matures. 
Flexibility and innovation
The buildings are designed to be flexible to allow for changing occupier requirements and to appeal to diverse sectors, including research, life sciences, technology and logistics. Sizes vary from 145m2 to 5,242m2, suitable for everyone from small local firms to large multinationals. This diversity increases the potential for the business park to become an innovation hub, with incubator spaces for growth and cross-collaboration of occupiers. Cambridge is ideally positioned for innovation, with talent coming through the university and excellent transport connectivity.
Financial
The additional costs to go from BREEAM Excellent to whole life net zero carbon increased construction costs by an estimated 3.9%. This included the investment in renewable technologies and carbon offsets.
The investment costs were balanced against longer-term returns from Bourn Quarter's sustainability credentials, in terms of reduced void periods, best quality covenants and forecast premiums in rental and investment yields. Over time, there is an expectation that the valuation of assets which are not net zero carbon will be negatively impacted.
Benefits
The Bourn Quarter proposals will deliver significant benefits:
 Protecting the environment: Bourn Quarter has 45% lower estimated carbon emissions than Building Regulations 2013 and all the buildings perform well in comparison to targets outlined in the RIBA 2030 Climate Challenge, supporting global efforts to keep warming below 1.5°C. The buildings are targeting BREEAM Excellent for sustainability and EPC A.
Boosting wellbeing and productivity: Designed in accordance with WELL Building Standard principles, the buildings will support wellbeing and productivity for people working at Bourn Quarter, along with outdoor spaces. This is likely to move even higher up the agenda for occupiers post-Covid.
Benefiting customers: The combination of sustainable buildings designed for wellbeing and extensive green spaces will help occupiers attract and retain the best talent and boost productivity. Occupiers will also realise operational cost savings through reduced energy demand. A substantial proportion of electricity will come from photovoltaic panels which will provide energy at reduced costs. Cambridge Design Partnership has already signed up as an occupier.
Growing the regional economy: Bourn Quarter will revitalise a derelict site, providing space for small and medium sized local and regional businesses. This will create around 800 new jobs, in addition to employment generated during the construction phase. 
Challenges & Achievements
INVESTMENT
How to justify the cost of innovating away from the standard industrial estate model?
The design and construction costs for Bourn Quarter are higher than standard multi-let industrial estates, due to the improved specification standard of the buildings. The extensive green spaces also mean that the park has lower density than an alternative 'concrete jungle' full of industrial units. However, the quality buildings, green spaces and amenities mean the park will have greater appeal for office, laboratory and tech occupiers than traditional industrial space. The investment costs were therefore balanced against longer-term returns, in terms of reduced void periods, best quality covenants and forecast premiums in rental and investment yields. In addition, designed to be flexible, the park will have a longer lifespan than standard industrial estates. Early indications of market appeal are positive; presenting Bourn Quarter to a large national company, the first question they asked was about access to green spaces for their employees and the second was about the park's BREEAM credentials. Wellbeing and sustainability are now on everyone's radar.
ELECTRIC VEHICLES
How to support the switch to electric vehicles?
Plans for Bourn Quarter include infrastructure for 20% of parking spaces to have electric vehicle charging points, with 10% installed on completion and 10% future capacity. This is above typical levels for business parks. Although Greater Cambridge has a planning aspiration for at least 50% of parking spaces in commercial developments to have electric vehicle charging points, the challenge nationally with scaling up electric vehicle use is the huge power requirement. At Bourn Quarter, additional car charging would increase electricity demand. This would impact the carbon footprint of the park but align occupiers to the national target of phasing out non-electric cars by 2030.