British Land's 1 Triton Square Shows the Commercial Value of Circular Economy Leadership
10 February 2020
British Land's 1 Triton Square Shows the Commercial Value of Circular Economy Leadership
10 February 2020
At 1 Triton Square, British Land has worked closely with architects and engineers at Arup, contractor Lendlease and occupier Dentsu Aegis Network to transform a 1990s office building for today's workstyles. By challenging standard approaches to refurbishment and reusing as many existing materials and components as possible, the team has minimised embodied and operational carbon, reduced construction costs and sped up the development process – all while creating a great new space for customers – demonstrating the commercial value of a circular economy approach. The project has achieved a BREEAM Outstanding sustainability rating at design stage.
Key Facts
56% embodied carbon saving vs typical new build – 465kg of CO2e (A1-A5) per m2
43% operational saving vs typical commercial building – 162kWh per m2 per year
66% cost saving on circular façade versus new equivalent
Biggest West End pre-let in over 20 years
Situation
1 Triton Square is located on British Land's Regent's Place campus in London's West End. It was originally designed for British Land in the 1990s by Arup. As the needs of customers have evolved since then, British Land partnered with Arup and Lendlease to transform the building for today's workstyles. Lendlease has worked on earlier construction projects at Regent's Place and has its European head office on the campus. Dentsu Aegis Network, an existing Regent's Place occupier, has signed a pre-let for all the office space.
British Land took a circular economy approach from the outset, asking, 'How much can we retain and reuse?'. The project team rose to this challenge, collaborating and innovating to keep as much of the existing façades and superstructure as possible, while adding three extra floors and doubling the lettable area of the offices. They also incorporated a range of wellbeing and efficiency features in the project and engaged with the local community, as set out in British Land's Sustainability Brief for Developments.
Action
To find marginal gains to improve performance, Team Triton chipped away at every aspect of the project to save carbon, cut waste and deliver the best working environment for customers. A whole life carbon assessment is currently underway, using the RICS framework.
The business as usual approach for an old glazed façade would be to scrap it and buy new. Instead, Team Triton pioneered a circular façade. 3,500m2 of panels (the surface area equivalent of over a dozen tennis courts) were removed and transported to a pop-up factory less than 30 miles away. Here, each one was inspected, deep cleaned, refurbished and new gaskets fitted, before being reinstalled. It was initially proposed to send the panels to Germany for refurbishment but, as an example of the marginal gains approach, establishing a pop-up factory nearby saved 25,000 transport miles, cutting carbon and supporting UK jobs.
Team Triton also pioneered British Land's first carbon fibre column wraps. The default strengthening solution to support the additional weight of the three new floors would usually be to add extra columns next to the existing ones. Instead, where possible, carbon fibre was wrapped around the original ones to add strength. This was not feasible for all columns but where it could be used – at only 4mm thick – it saved floor area versus a twin column solution and minimised visual disturbance across the floor plate.
Additional lifecycle carbon savings were achieved by replacing over 70% of the cement needed with blast furnace slag, which typically has 50% less carbon than standard concrete. Operational energy efficiency improvements were also achieved by positioning the corner stair cores outside the building's thermal line, with nominal heating for frost protection, which has improved air tightness and energy efficiency.
Supporting British Land's community and skills programmes, Team Triton has volunteered hundreds of hours to local employability and education activities. This includes providing apprenticeships for local people, engaging with students on careers in construction, offering meaningful work experience placements and hosting site tours. The team has also raised thousands of pounds for charity, created a rooftop garden at a local primary school and provides ongoing support to local charities, such as Camden Giving and Global Generation. Local businesses and start-ups will also benefit from the completed project, with 1 Triton Square providing 930m2 of affordable workspace through subsidised rents.
Additional features at 1 Triton Square to promote wellbeing and productivity include:
Five panoramic terraces providing space for socialising, working, exercising and relaxing.
Floor to ceiling windows, 2.7m tall, filling offices and stairwells with natural daylight.
Over 530 cycle spaces, along with lockers and showers, supporting active lifestyles and green travel.
Nearly 500m2 of green roofs, with insect hotels, beehives and bird boxes, promoting biodiversity in London's West End and increasing opportunities for people to encounter nature in their daily lives.
Financials
Substantial construction cost savings and faster development process compared to a like-for-like new build, thanks to circular economy principles. For instance, the circular façade cost 66% less than a new equivalent.
0.3% additional capital expenditure to take the project from British Land's Sustainability Brief standard (equivalent to BREEAM Excellent) to BREEAM Outstanding, versus a perceived industry norm of around 5% to go from Excellent to Outstanding.
Additional benefits
43% estimated operational carbon saving versus a typical commercial building1, averting 34,690 tonnes of CO2e emissions over the next 20 years. Forecast landlord base-build energy consumption is 162kWh per m2 per year, based on TM54 modelling.
56% estimated embodied carbon saving versus a typical new build2, averting 27,463 tonnes of CO2e emissions during construction. Estimated embodied carbon at 1 Triton Square is 465kg of CO2e (A1-A5) per m2 (gross internal area), versus 1,047kg per m2 for a typical new build benchmark.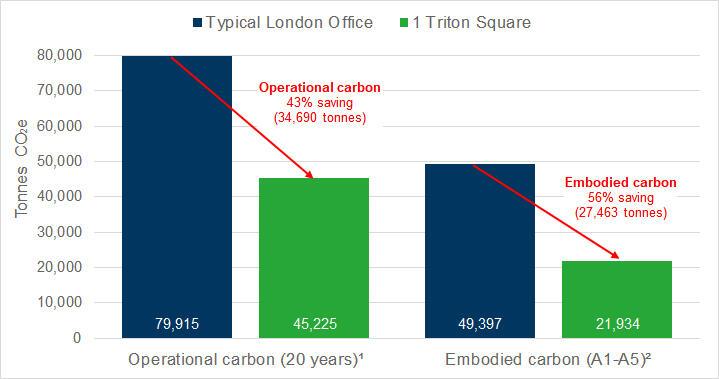 Biggest West End pre-let in over 20 years, with Dentsu Aegis Network signing a 20-year pre-let for 1 Triton Square in 2017.
Testing innovations for future projects, with British Land now incorporating circular economy principles into plans to transform public spaces at Regent's Place and looking at how much of the façade can be retained and reused on another development.
Tim Downes, Development Director at British Land: "1 Triton Square marks the latest phase in the evolution of Regent's Place. It's a great example not only of our outstanding performance on sustainability and collaborative approach to development, but also our long-term relationships with customers. We're delighted that Dentsu Aegis Network has chosen to stay on the campus, bringing their team together at 1 Triton Square, and we look forward to continuing to work with them to meet their evolving needs."
1 Operational carbon benchmark derived from Real Estate Environmental Benchmark (REEB) Typical data.
2 Embodied carbon benchmark derived from British Land Benchmarks 'Embodied Carbon Study' Faithful & Gould (2015)
Challenges and Achievements
TEAM
How to encourage collaboration and innovation?
Chris Carragher, Project Director at Lendlease: "British Land brought the design team and construction team together to think about how we could do things differently from an early stage. They engaged Lendlease as construction partner as early as possible, which meant we could give input to the design team and cost consultants, together finding solutions to problems before they even happened. British Land also appointed a single partner, Arup, for design, structural engineering, and mechanical and electrical engineering, three services that would usually be provided by separate companies. This simplified communications and contributed to our one team culture. We explored challenges and opportunities together, such as taking the project from BREEAM Excellent to BREEAM Outstanding, adding new office space to the top of an existing building, and retaining and reusing as much of the building as possible. 1 Triton Square shows what's possible when clients involve the whole lifecycle team early on and encourage everyone to work collaboratively together towards shared goals."
PERCEPTIONS
How to change the perception of reuse and refurbishment?
Simon Swietochowski, Project Director at Arup: "There's a perception in the industry and marketplace that new buildings are worth more than reused ones and are easier to let. This misconception urgently needs to change; it flies in the face of good sense. When you regenerate a building imaginatively and to a high standard, the quality of space is often more characterful and diverse than a new build. Reuse can also be faster, leaner and greener. Over 80% of 2050 buildings are already built, so if we're to meet global climate goals, we need to change how we think about reuse, which is what we've done at 1 Triton Square. If we're to combat the climate emergency, it's essential that more clients adopt a radically different mindset like British Land. 1 Triton Square is ground-breaking because the whole team was willing to look at the world differently and collaborated to drive positive change."
*Please note that the information on this page was supplied by the MAP Member and the BBP assumes no responsibility or liability for any errors or omissions in the content