On World Environment Day 2019, Canary Wharf celebrated becoming the world's first commercial centre to be awarded Plastic Free Communities status by marine conservation charity Surfers Against Sewage. This recognises the success of Canary Wharf Group's collaborative 'Breaking The Plastic Habit' behavioural change campaign. Working together, occupiers, individuals and partners have helped eliminate avoidable single-use plastic through education, awareness raising and innovative solutions, including deposit return vending, reuse reward apps, coffee cup recycling and water bottle refill stations.
Over 6 million single-use plastics removed or recycled across Canary Wharf
83 bars, restaurants, cafés and coffee shops removed single-use plastic straws
6.2 million social media views for the campaign
Situation
Canary Wharf Group's vision is to inspire positive impact by creating places that are healthy, thriving, sustainable and future ready. 2030 goals include establishing the world's leading circular economy.
As part of its efforts to make Canary Wharf a truly circular city and a model of the future, Canary Wharf Group launched Breaking The Plastic Habit on World Environment Day 2018, bringing together businesses and individuals to eliminate avoidable single-use plastics across the 97-acre mini-city. This was informed by a public survey held at Canary Wharf on World Environment Day 2017, where people voted on the environmental issues they cared about most. Over 1,000 people took part, identifying single-use plastics as their most urgent concern.
It is estimated that almost 400 million tonnes of plastic are produced across the globe each year, with 8 million tonnes reaching our oceans and only 10% captured and recycled. If this pollution is not challenged, plastic in the ocean could outweigh fish by 2050.
To drive progress, Canary Wharf Group joined forces with Surfers Against Sewage, using its Plastic Free Communities framework as a guide. This involved committing to targets across five areas: local governance, local businesses, stakeholder steering groups, community engagement and community events.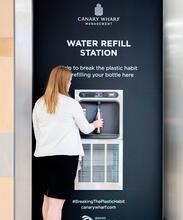 Actions
To celebrate World Environment Day 2018 and mark the launch of Breaking The Plastic Habit, Canary Wharf hosted a cross-sector panel discussion on single-use plastic with experts, industry leaders and partners. This debate identified three key opportunities to break down barriers to eliminating single-use plastics: simplifying consumer choices, educating people and industry, and collaborating.
Simplify consumer choices
Deposit return scheme, where people recycle single-use plastic bottles and cans in return for discount vouchers to spend in partner stores. This machine is the first of its kind in a UK retail environment, using 360-degree scanning technology to segregate plastic bottles for onward recycling.
Seven refill stations installed across the Estate, giving people access to drinking water on the go.
Reward app for reuse and recycling, in partnership with HELPFUL. Each time people reuse cups, bottles, cutlery or bags at Canary Wharf, they can receive coins to spend in partner stores. The app also directs users to the nearest recycling bin for the plastic they need to dispose of, with all bins on the Estate linked to the app.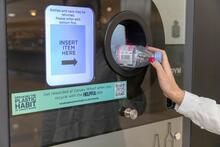 Educate people and industry
Breakfast briefings to share insights, discuss opportunities and explore what's next in the fight against single-use plastic, along with retailer workshops and occupier sustainability forums.
Community events, including a Breaking The Plastic Habit consumer awareness campaign across the retail malls, touring roadshows coinciding with Recycle Week and the HELPFUL app launch, and consumer campaigns such as #3WEEKS to eliminate plastic straws and Wake Up and Smell the Coffee to increase coffee cup recycling.
Reports, case studies and news, published on the dedicated Breaking The Plastic Habit website.
Collaborate with industry and technology partners
#3Weeks campaign to ditch plastic straws, based on behavioural research that suggests it takes three weeks to break a habit. 83 bars, restaurants, cafés and coffee shops on the Estate extended the campaign into a permanent initiative, removing single-use plastic straws.
Flagship partner package for the Estate's largest commercial occupiers (businesses with over 100 employees) to analyse their plastic use in-depth, supporting them with solutions to drive positive behaviour change. The first two flagship partners have been confirmed, with several more expressing interest.
Community hotspots, working with partners to ensure single-use food services items are no longer served at any events hosted at Canary Wharf. Food traders are now contractually obliged to not serve disposable plastic items, performers have switched from bottled to canned water and extra recycling bins are supplied.
Future
Longer term, Breaking The Plastic Habit will be central to Canary Wharf Group's vision of establishing the world's leading circular economy, acting as an infrastructure hub for the recirculation of key resource flows, not just plastics but also other materials and assets, such as energy, heat and water. This circular approach should enable Canary Wharf to pilot the creation of zero-carbon, zero-waste spaces, an approach which could eventually be scaled up across Canary Wharf Group's portfolio.
Financial
These initiatives have generally been funded through operational expenditure, and overhead costs from Canary Wharf Group's sustainability and communications departments. This reflects the massive benefit that the programme provides as a unique service to occupiers and their customers, which in turn adds value to the Canary Wharf brand.
The biggest costs came from the purchase and installation of the water refill stations and reverse vending machine, notably from remodelling existing building fabric and service provision. These costs could be significantly reduced through upfront design and installation.
Management and maintenance costs are minimal; these are included in existing or slightly modified service budgets. Careful selection of a waste management and recycling contractor with a shared zero-waste operating model is essential. Extensive engagement with occupiers, customers and supply chain is also required.  
Benefits
- Supporting the sustainability goals of Canary Wharf Group and occupiers, with over 6 million single-use plastics removed or recycled to June 2019, including:
4.6 million coffee cups recycled since February 2017.
1.2 million plastic straws eliminated since June 2018.
140,215  water bottles refilled since September 2018.
21,668  bottles recovered via the deposit return vending machine since April 2018.
10,300 items recycled or reused via the rewards app since January 2019.
Collaborating with occupiers, including 83 bars, restaurants, cafés and coffee shops removing single-use plastic straws and 39 retailers supporting the HELPFUL recycling rewards app.
- Making Canary Wharf a more attractive place to do business, as real estate that comes with built-in green credentials can be a key differentiator.
- Generating positive recognition for Canary Wharf, with over 128 pieces of media coverage and 1,600  shares on social media, collectively resulting in a global reach of 9.2 million.
Challenges & Achievements
GOVERNANCE
How to establish robust governance to drive progress?
Canary Wharf Group worked with Surfers Against Sewage to adapt the Plastic Free Communities governance criteria, which is geared towards local councils, for a commercial environment. Breaking The Plastic Habit is governed primarily through Canary Wharf Group's Plastic Free Community Steering Group, which meets fortnightly. Members of the Steering Group include over 20 senior managers and representatives from the Group's retail, buildings and waste management functions. To lead by example, Canary Wharf Group's Board of Directors committed to removing single-use plastics within its own offices, replacing items such as plastic bottles, disposable cutlery and plastic-lined cups and bowls with refillable water bottles, glasses, metal cutlery and crockery. Internal awareness raising included Breaking The Plastic Habit newsletters distributed to all employees and a two-day interactive road show where employees were rewarded for making plastic pledges, such as carrying reusable coffee mugs and refusing plastic straws. Canary Wharf Group's Corporate Responsibility Policy also references targeting eradication of single-use plastic.
OCCUPIERS
How to secure occupier buy-in to extend influence?
Getting businesses on board was paramount to Breaking The Plastic Habit. Canary Wharf Group and occupiers have a track record of successful engagement on sustainability, including through the Wake Up And Smell The Coffee campaign. Building on this, Breaking The Plastic Habit workshops, visits and bespoke toolkits have helped retail occupiers understand their plastic use, providing them with the ability to audit and reduce single-use plastics within their stores and engage staff on how they can best communicate these efforts to consumers. To date, 41 retail and commercial occupiers have eliminated or replaced at least three single-use plastic items, with the numbers continuing to grow. Trailblazers include food-to-go chain Chop'd that has phased out various single-use food service items and rewards customers for reusing salad bowls, eliminating over 200,000 plastic bowls in the course of a year, dry cleaner Efendi that has introduced a deposit return scheme for plastic clothes hangers to encourage takeback and reuse, and Wharf Kitchen, a food court that is entirely free of single-use plastics. Commercial occupiers have also got involved in Breaking The Plastic Habit, including taking part in events and debates, with the new Flagship Partner package designed to increase involvement among the Estate's largest commercial occupiers.