The Crown Estate has been partnering with Savills to roll out Sustainable Travel Plans across its regional retail portfolio since 2019, with the aim of positively influencing how people travel to its retail and leisure destinations. Results at Rushden Lakes reveal how this is successfully encouraging visitors and retail employees to shift to more sustainable modes of travel, such as walking, cycling, electric vehicles and public transport.
7% reduction in the proportion of visitor journeys by car, reducing emissions
9% reduction in the proportion of retail employee journeys by car
1st retail destination Modeshift STARS accredited for green travel
Situation
As managers of a unique portfolio, The Crown Estate aims to create greener, healthier and more sustainable places for generations to come. In 2019, The Crown Estate partnered with managing agent Savills to roll out Sustainable Travel Plans for 13 retail and shopping parks across its regional portfolio. More here. Environmental and social drivers included reducing travel emissions, improving air quality and promoting health and wellbeing. 
The Crown Estate, working with Savills and local partners, has since introduced a series of initiatives to facilitate and promote more sustainable modes of transport across all its places. Here, we focus on progress at Rushden Lakes in Northamptonshire, which recently became the first retail and leisure destination to achieve Modeshift STARS (Sustainable Travel Accredited and Recognised) accreditation. Modeshift is the UK's centre of excellence for the delivery of effective travel plans in education, business and community settings. 
Rushden Lakes is a shopping destination home to over 50 retail brands, from big brand fashion to local independents, and set within 200 acres of protected Nene Wetlands reserve. 
Actions
Electric Vehicles
In March 2021, Rushden Lakes supported the launch of a regional trial of low-carbon Voi e-scooters. The trial was extended after a successful first year, which saved an estimated 190 tonnes of CO2 and replaced 410,000 short car journeys. Over 2,000 Voi e-scooter rides ended at Rushden Lakes in the first 18 months, the second most popular destination. 
Sustainable Travel Working Group
In May 2021, The Crown Estate and Savills established a sustainable travel working group at Rushden Lakes to exchange ideas and accelerate progress. To support the centre team, the group included experts from Savills and social enterprise Brightwayz, which helps organisations across the UK develop safe, active, sustainable travel plans. 
Objectives for the working group include:
To make active and sustainable travel a feasible choice for as many people as possible, both working at or visiting the site. 
To engage with the community to remove barriers to sustainable travel and provide support to extend people's choices.
To create a live travel plan for the group, to coordinate action and share best practice.
To trial methods and approaches that The Crown Estate and Savills can apply at other sites.
Visitor Travel Surveys
In July 2021, Brightwayz entertained visitors to Rushden Lakes with giant bubbles, while surveying them on their travel choices and promoting sustainable travel facilities. The event exceeded the target for survey responses and identified opportunities that the team then acted on, including engaging with local partners to improve access to bus services and promoting cycle racks, free mobility scooter hire and a dogs-in-shops scheme.
Founder of Brightwayz, Alison Holland: "What better way to gather feedback and do a survey than to lay on entertainment for the kids? While the little ones popped, played with and chased the bubbles, adults happily took a pause from their shopping to complete our travel survey. We even had some pet friendly bubbles, ones with a peanut scent, which went down a treat with dog walkers."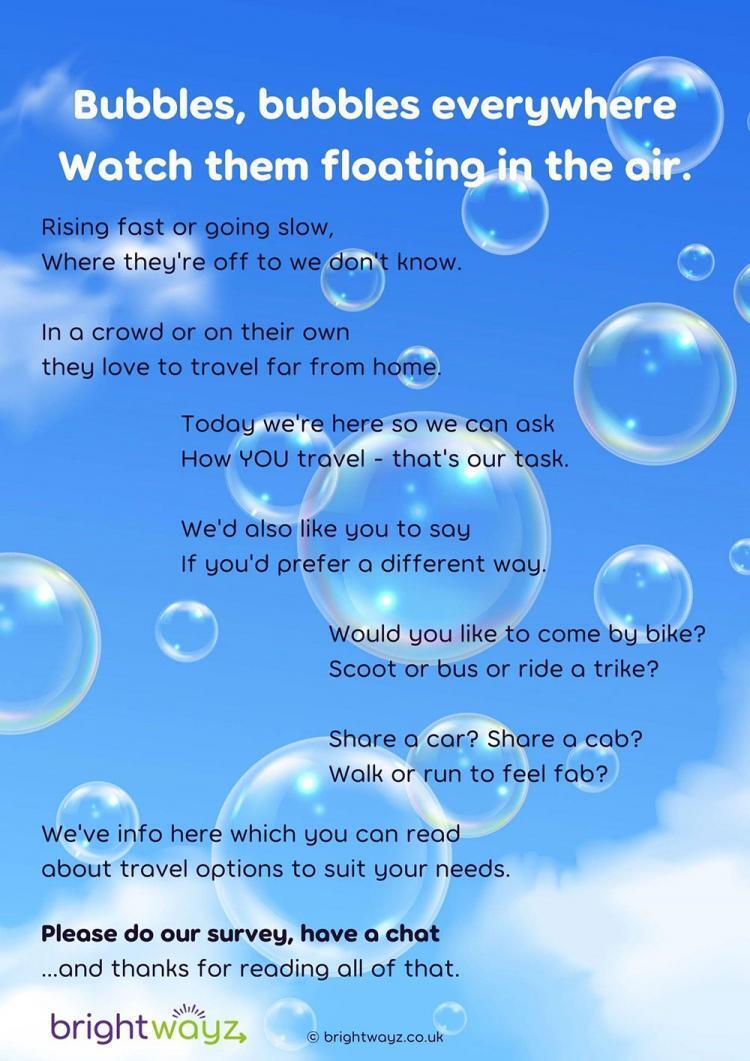 Sustainable Travel Day
In September 2021, Rushden Lakes hosted a Sustainable Travel Day to mark World Car Free Day and engage with the community. Voi provided free-to-try scooters and vouchers during the day. The site team engaged with visitors and the local community to raise awareness of sustainable travel options to site. These include:
Walking routes: A step-free footbridge provides easy access to Rushden town centre for pedestrians and people using wheelchairs and mobility scooters. 
Cycling facilities: Rushden Lakes offers cycle racks, along with free bike repairs and maintenance sessions, and bike safety training events. It links directly to East Northants Greenway cycling route.
Electric vehicles: In addition to Voi e-scooter availability on site, there are Pod Point charging points for 14 electric cars, including two reserved for blue badge holders.
Public transport:  Improved Stagecoach bus services between Rushden Lakes and surrounding towns, with regular services available all day, every day. Wellingborough train station is a few minutes by bus.
Regional Portfolio
Additional sustainable travel initiatives introduced at Rushden Lakes, as part of wider rollout across the regional retail portfolio, include:
Updating public facing communications, standardising travel information and presenting active travel options first on websites.
Partnering with AccessAble to launch detailed accessibility guides and complete AccessAble assessments, making The Crown Estate the first real estate company to undertake these for retail parks. All sites were certified and registered on the AccessAble app.
Surveying store managers and retail employees on their travel behaviours via Savills Insights, an app for customers.
Updating the Savills Insights app to show sustainable travel options, along with any rewards or local discounts available to people who work on site.
Looking Forward
Plans for the future at Rushden Lakes include competitions for retail employees, sustainable travel events for visitors of all ages, the creation of a champions network and a summer campaign on e-scooter savings. The working group is also looking to trial a travel reward mechanism, through the Savills Insights app and will continue to monitor behavioural shifts. Savills and The Crown Estate will incorporate lessons learnt at Rushden Lakes across the wider portfolio. 
Financial
Sustainable travel options are often cheaper for visitors and retail employees than single car trips, providing an environmental and financial win/win.
Sapphire at Wren Kitchens (pictured): "Since I've been using the Voi e-scooters to travel to work and back, it has saved me a fortune, costs less than petrol and taxis. I use them five times a week to and from work. I've worked for Wren for two years and this is the best travel method I have found."
Benefits
Behavioural shifts
7% reduction in the proportion of journeys made by car for visitors to Rushden Lakes between 2019 and 2021 (CACI data).
9% reduction in the proportion of journeys made by car for retail employees between 2019 and 2021 (CACI data).
This was achieved in the context of Rushden Lakes maintaining high footfall throughout national and local lockdowns, with visitors enjoying the range of retail brands and outdoor opportunities in the wetlands reserve.
Outcomes
Advancing climate action – reducing emissions from travel.
Promoting health and wellbeing – by increasing opportunities for people to get active through cycling and walking.
Enhancing the local environment – improving air quality locally and reducing congestion.
Saving money – helping people switch to lower cost green alternatives.
Supporting the sustainability goals of The Crown Estate, Savills and customers.
Enhancing the ESG credentials of Rushden Lakes, achieving Modeshift STARS Bronze.
Supporting local development plans and fulfilling Section 106 planning agreements.
Modeshift: "Rushden Lakes is the first shopping centre to achieve National STARS Accreditation, and due to their hard work and commitment to sustainable and active travel, have achieved a Good Travel Plan standard. We look forward to seeing how their travel plan develops and the positive changes they can have on their workforce, and the community around it." 
Challenges & Achievements
BEHAVIOUR
How do you change travel behaviours?
A common challenge is encouraging people who have not previously cycled, walked or travelled to site by bus to try something new. During COVID-19, many local walkers, cyclists and families came to Rushden Lakes to enjoy the outdoor spaces. This provided a platform for positive change and engagement. In addition, with growing public awareness of the climate and nature emergency, there seems to be greater openness to green alternatives. The Rushden Lakes team made progress in shifting behaviours, by ensuring that the centre is well connected and that people are well informed of sustainable travel options available, raising awareness, highlighting the benefits and helping to remove barriers. Subsidised trials at other sites have also proven effective at changing travel habits. The challenge for the team in the coming year is to identify and train a network of champions embedded in each store to amplify sustainable travel and eventually wider sustainability messages.