Things may have seemed quiet on the Real Estate Environmental Benchmark Project. However, this couldn't be further from the truth. We at the Better Buildings Partnership have been busy developing a new online system for the delivery of REEB. 
The development of the new REEB platform has been almost two years in the making. In February 2018, we reached a critical juncture in the delivery of REEB where, as a membership, we needed to consider the long-term delivery model for REEB.  
In simple terms, there were two options: 
Our modus operandi to date, outsourcing the delivery to a 3rd party supplier. 
Bringing the project in-house and developing our own bespoke REEB platform. 
After an extensive strategic review process throughout 2018, we decided the most appropriate long-term delivery model would be Option 2 – bringing REEB in-house. This option provided us with a solution that was tailored to our bespoke needs, whilst also providing us with the greatest level of ownership and flexibility in how the project could evolve in the coming years. 
A detailed procurement process swiftly followed, and in February 2019 we selected software developer AVCO Systems to be our solution provide, together with project management support from sustainability consultancy Verco.   
Developing a platform 
Our aims were clear from the start. To deliver an online platform that: 
Provides members' greater ownership of their data via direct data administration;  
Reduces manual processes through automation; 
Improves speed, reliability and data quality;  
Is scalable for growing demands; and 
Provides a solid basis for innovation. 
Functionality 
With a clear strategy in mind, the next eight months were spent building out the platform. For those of us who'd never been involved in software development before it was quite a learning curve! And whilst it was a challenging timeframe, with a lot of hard work from everyone involved in the project we now have an online system in place wherein: 
Each BBP member has an account that they can log in to and manage, with the ability for multiple users to submit data on their behalf; 
Users can manage their real estate portfolio by adding and removing sites for which they wish to submit data;  
Users can view and edit current and historic data; 
Data can be uploaded and reviewed quality issues flagged in real-time; 
Users can see analysis within a charting library instantly, following data upload; and  
Data analysis can be exported.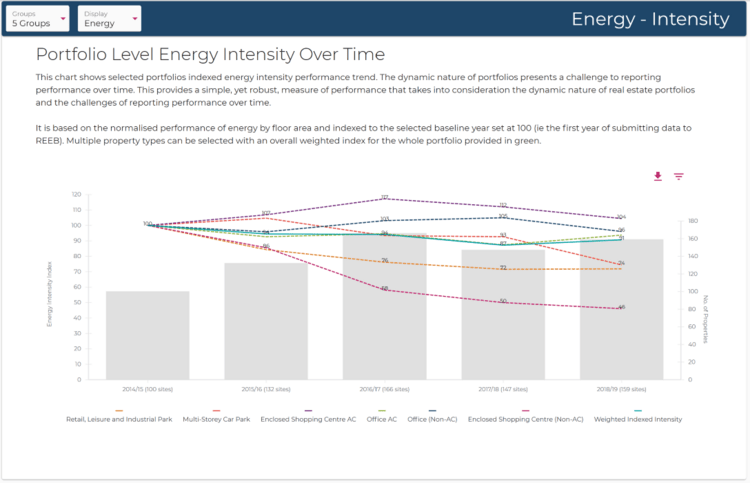 An instant trial 
As we'd already missed a year's worth of data collection in 2018, we decided that not only would we be ambitious in the build time, but we also decided to instantly kick-off the data collection period and collect two-years' worth of data from our members. This October and November thus focused on collecting data from FY2017/18 and FY2018/19.  
I would be lying if I said it was a straightforward process. As with any kind of software development project, bugs and gremlins are plentiful; however, the process probably went as smoothly as we could have hoped. Within a 6-week period, 31 organisations submitted two years' worth of data for over 1,000 sites – a 20% increase from the last data collection period! 
With all the data now in, the work doesn't stop there. In the new year we'll be crunching the numbers and will shortly publishing updated REEB Benchmarks and industry trends. All of this to ensure we are providing the latest insight into how a sample of the commercial real estate sector is performing.