The development of a flourishing garden in a previously unused area at Central Retail Park is enriching biodiversity on a brownfield site, boosting health and wellbeing for retail staff and cutting waste through circular economy principles. As the garden continues to grow and Covid restrictions ease, there is a range of plans to expand occupier and community engagement, working with local partners.
Creating a garden for retail staff and the site team to enjoy
Providing natural habitats for insects and birds to enrich biodiversity
Upcycling 90 pallets, reducing waste costs
Gold Scottish Green Apple Award for Environmental Best Practice 2021
Situation
Central Retail Park is one of the premier parks in Scotland and the UK, located close to Falkirk town centre. It is owned by Hammerson and managed by Workman LLP. 
Hammerson's sustainability vision is to create retail destinations that deliver net positive impacts socially, economically and environmentally. This is integral to the services offered by Workman. As part of this, the Park Manager at Falkirk identified an opportunity to create something from nothing in unused spaces in the service yard:
Growing a garden for health and wellbeing.
Encouraging wildlife to flourish in a brownfield site.
Reducing waste through circular economy principles.
The challenge was to achieve this in a retail park, with a small on-site team, for no additional costs, in a space that a lot of people would write off as not being viable.
Actions
Leadership and team engagement
Supported by Hammerson and Workman, the project has been led by Park Manager Kaye Finlay, who designed the garden and inspired involvement by the site team and occupiers. The level of engagement is particularly impressive during a pandemic, with social distancing restrictions and other challenges.
Cleaning and security teams have volunteered their time in the garden, often spending half an hour after their shifts or on breaktimes, planting, watering, building planters and installing fencing. Kaye has started teaching interested colleagues about plants and basic gardening skills. Some people even volunteer on their days off because they enjoy it so much. Everybody feels ownership of the garden.
Green spaces and biodiversity
Central Retail Park is located on a former ironworks site, where much of the ground is reinforced concrete, so ground planting does not always flourish. The Falkirk team's solution was to reuse old pallets from occupiers to create large planters, which they lined and filled with compost. They propagated seeds from fruit into seedlings and collected unsold plants from retailers for replanting, as well as creating a vegetable patch and composting area.
To further enhance biodiversity, the team introduced bug hotels, bird houses and hedgehog boxes in landscaped areas. They installed wildlife cameras to capture images of animals using the areas and help identify species living in and around the retail park. They are now looking at ways to monitor and track changes in wildlife.
Upcoming plans include transforming two additional unused areas in the service yard to create a:
Wildflower meadow, where wildlife charity Froglife has offered to fund and create features, as part of a wider local project.
Space to plant flowers, for transplanting to hanging baskets or planters in customer areas. This area could also be used for growing vegetables, composting and gardening workspace.
Circular economy
Much of the project relies on repurposing discarded items from around the retail park, notably pallets. Along with returnable pallets, many of the retail park's 31 occupiers receive pallets that need to be disposed of. Through the project, around 90 non-returnable pallets have been remanufactured into planters, fencing, workbenches and potholders, with another 40 stored ready for use. A local craftsperson has also transformed pallets into a bench as a potential prototype for customer areas.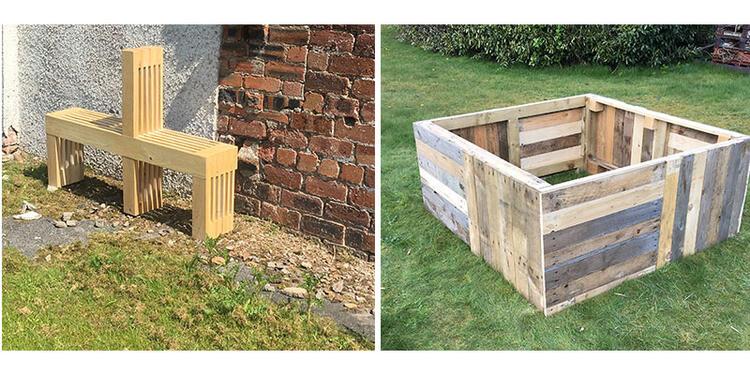 Contractors working on site now tell the Falkirk team when they are discarding equipment or materials that may be useful for the garden. Items donated to date include stones, bricks and slates to create a small rockery.
In addition, the team has given new life to old display furniture and other items donated by occupiers, along with equipment from a summer beach event organised by Hammerson. They have even repurposed materials fly tipped on site, such as car tyres and fireplaces. Damaged bins have been used for planters and rainwater harvesting. Without the garden, these items would all have been disposed of as waste off site.
To further reduce waste and engage the local community, the retail park team plans to introduce upcycling workshops when Covid restrictions ease, working with local partners. At these sessions, people will learn how to make planters from pallets. They will then be able to collect pallets from the retail park for upcycling at home.
Occupier engagement
Many occupiers have been keen to get involved, donating items and using the garden as a quiet or social space at lunchtime and during breaks. Staff from the gym also use the garden for exercising outdoors. 
Donations from occupiers include:
Perennial plants from Marks & Spencer and Tesco, replanted in the garden.
Coffee grounds collected from cafés and added to top-soil and compost for the plants.
Display furniture from Next Retail and Costa.
As social distancing requirements relax, additional ideas for occupier engagement include:
Retail staff volunteers getting involved in the garden, potentially taking ownership of small areas or new plots.
Introducing new garden plots in unused spaces at the back of occupier units.
Hosting occupier meetings in the garden when the weather allows, rather than indoors.
Hobbycraft using the garden for creative activities with customers, subject to health and safety assessments.
Community engagement
The team has started engaging with local groups to explore opportunities for greater community engagement, as Covid restrictions ease. Ideas include:
A series of workshops where people learn how to create planters from old pallets and make their own wildflower seed bombs. This would allow people to learn new skills, connect with others and engage with the retail park in a new way.
Curriculum-linked activities with Developing the Young Workforce Forth Valley and schools.
Youth mentoring with Canal College.
Community groups and schools taking ownership of planters to design, grow and maintain, or creating decorative designs to be painted on fences.
Small community events in the garden, such as storytelling and pumpkin picking.
Linking the public to the biodiversity work through social media channels.
All activities will be subject to health and safety assessments.
Financial
Cost is currently the biggest barrier for biodiversity projects on most retail parks. The Central Retail Park project has been delivered for zero cost through circular economy principles and collaboration with the site team, contractors and occupiers. Estimated savings on waste management costs through reusing pallets, display furniture and fly tipped items in the garden have exceeded minor expenses. The bench prototype also showed that a circular approach to retail park equipment could provide further savings, as outlined below.  

Benefits
The results show that, with a 'can do' approach, creative thinking and collaboration, anything is possible.
Health and wellbeing: Creating a natural environment where retail staff and the site team want to spend time. Evidence shows that a thriving, wildlife-rich environment benefits both physical and mental health.  Placemaking and wellbeing are major themes for 2021, attracting people back to work and retail post-Covid.
Biodiversity: Supporting Workman and Hammerson's wider biodiversity goals. Following the creation of natural habitats at Central Retail Park, the team has noticed an increase in wildlife, including butterflies and insects, helping with pollination, along with squirrels, field mice, rabbits and various bird species. As the landscaped areas become established, they will also contribute to air quality and absorb carbon.
Circular economy: From pallets to tyres, there are many examples of materials that would previously have been disposed of now being reused on site. The site team is now looking at discarded materials in a new way.
Relationships and team building: The project has helped the retail park team build closer relationships with occupiers and contractors. Working together on a shared project has also been good for team morale and created opportunities for learning and creativity. This was particularly valuable during a challenging time for the retail sector and wider society.
Recognition: Winning a Gold Scottish Green Apple Award for Environmental Best Practice 2021 and Workman's Community Award 2020.
Feedback on the garden at Falkirk Central Retail Park by a security team member and British Army veteran:
"The garden project has helped me in such a major way. I always said that I will never suffer from mental health or PTSD. I had this whole stigma of men do not talk about things like that. That changed one night when I thought about ending it all. The thought only lasted about three seconds but that was long enough to tell me to get help ASAP. I reached out to people, firstly my family, who have been very supportive, and the amazing people at Rock 2 Recovery who specialise in helping veterans. 
I had to focus my mind on something. I approached Kaye Finlay, the Park Manager, and told her my issues. She was great and introduced me to the garden project. I didn't have a clue about gardening, but Kaye saw me as her apprentice, and I looked at her as my Yoda. I started to see the difference in me, the desire to learn more, to the point I was coming up with ideas for the garden. I started to look out for things as it's all recycled. It's given me so much hunger that I've done the same in my own garden. It's given me ideas, which has improved my life at home; it's got my kids involved. 
Some people would say it's just a garden, but to me it's bigger than that. It helped me save me. It's saved a partner, a dad, a brother, a son, an uncle, but more importantly a life. If I feel like it's getting too much, I go to the garden and look around at everything that has been given a second chance, a new beginning. At times I say to myself I'm no different to the items in this garden. And the best thing about it is, the hard work has only just begun."
David McKay, Senior Associate at Workman: "This feedback hit home with the whole team, demonstrating the huge value of the garden project for the wellbeing of everyone involved, which is perhaps the most satisfying impact." 
Challenges & Achievements
BIODIVERSITY
How to get projects off the ground with no budget?
Supported by Hammerson and Workman, the Central Retail Park Manager and site team overcame a series of challenges:
Time: Designing, planting and maintaining a garden takes effort. The Falkirk team donated their own time, before and after work. Feedback indicates that the project has been positive for their mental health and provided a valued learning platform and avenue for creativity.
Water: With no water source nearby, the team repurposed old bins for rainwater storage to water plants. In the coming months, a member of the cleaning team plans to create a gravity fed irrigation system.
Planters: With a reinforced concrete surface, there was nowhere for planting. The team solved this by creating large planters from disused pallets and repurposing discarded materials, such as tyres and bins. 
Seeds and plants: Challenged not to spend money, the team planted items donated by stores and collected seeds from fruit and vegetables they had eaten. They have also saved seeds from the first year's plants, which they are now replanting.
Storage: The team transferred a shed left over from a summer beach event to the garden. This would otherwise have been sent for recycling off site.
Sustainability: To safeguard the sustainability of the garden, the Park Manager nurtures a sense of ownership among volunteers so that, as team members change, the garden continues to be cared for. As the project continues and more people and groups get involved, the future of the garden will become even more secure. 
Find out more about Workman's approach to urban biodiversity here.
Find out more about Hammerson's sustainability vision here.