Hermes Investment Management and partners have completed the restoration of Hanover House at NOMA, Manchester. Together, they have transformed a Grade II listed building into an exceptional and beautiful Grade A office building, blending heritage with contemporary design. Many of the building's original characteristics have been sensitively restored, alongside upgrades to building fabric and systems that have created a dynamic working environment for future generations. 
BREEAM Very Good sustainability rating
Energy Performance Certificate (EPC) B
Offices fully let upon completion
Amazon's new Manchester HQ
Situation
Owned by Hermes Investment Management, NOMA is a 20-acre masterplan in Manchester city centre, creating new homes, offices, hotels, shops, restaurants and bars around vibrant urban spaces and public realm. Hermes believes that responsible property investment (RPI) can provide both superior financial returns and a better, more sustainable society.
Hanover House is the earliest surviving commercial warehouse built by the Co-operative Wholesale Society's in-house architecture department. It is forged from two buildings: E Block, a drapery warehouse completed in 1904, and Hanover, added in 1909 to provide offices and additional warehouse space. An outstanding example of Edwardian baroque, Hanover House was built using the most advanced construction techniques of its time.
As the first part of the Listed Estate on NOMA to undergo major refurbishment, Hermes put a strong focus on understanding the heritage elements and analysing options to retain original characteristics. Hermes also set the project team the target of achieving BREEAM Very Good for sustainability, as standard on all its major refurbishments.
The project team included local architectural firm Sheppard Robson, Manchester-based contractor Russells Construction, property and project managers Workman, mechanical and electrical (M&E) consultant Crookes Walker Consulting, heritage consultant Stephen Levrant Heritage Architecture and BREAAM consultant Carbon Credentials.
Actions
Heritage
Retaining and restoring the original façade and internal design features, including carved stone details, glazed tiles, sandstone window surrounds and coffered plastered ceilings.
Reopening a reception area that had been closed off for decades and reinstating the upper floors of E Block, which had been lost to a fire.Health and wellbeing. 
Health and wellbeing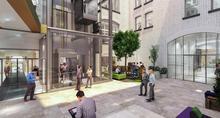 Large open atrium provides breakout and leisure space for occupiers. This glazed atrium spans the courtyard, connecting the two buildings via link bridges at each level, with a social space and walkway at ground floor.
Secure cycle spaces, shower facilities and changing rooms for occupiers, in line with BCO standards.
Remodelled roof design, adding roof lights to maximise natural light indoors, whilst re-using original slates where possible.
Indoor air quality improved by only using products with low or zero Volatile Organic Compounds (VOCs).
Energy
Internal double glazing installed to improve air tightness, window thermal performance and acoustic values.
Existing roofing dismantled, insulated and re-laid.
Heating and cooling systems served by down flow units, which distribute conditioned air below the floor.
Electricity, heat and coolth metering to all office areas (four per floor) and retail units, so they can be monitored and managed to reduce energy usage. This system can also be used to bill occupiers for their actual electricity, heat and coolth usage if areas are multi-let, encouraging them to be energy efficient.
Office ventilation system incorporates variable speed drives and heat recovery, so heat can be extracted from the exhaust air and used to warm incoming fresh air.
Energy saving features in the Building Management System (BMS) include:
Heating and cooling system can be controlled to operate only during pre-programmed set points for individual office areas and retail units.
Heating system is weather compensated based on outside air temperatures, controlled by the BMS.
Natural ventilation in the atrium is used to dissipate excess heat once the internal temperature rises above a predetermined point, via the smoke ventilation louvre at high level.
Perimeter heating system and heaters over the entrance door use outside air sensors, so they do not operate when the external air reaches an acceptable temperature.
Energy loop has a deadband, so the main heating and heat rejection plant operate less frequently.
Social
Over 40% of the workforce employed during construction lived within 10 miles of the building and more than 40 apprentices and trainee employees gained experience on the project.
Community engagement with local residents held at adjacent Sadler's Yard, along with monthly pop-up markets, an arts festival and outdoor cinema experience.
Tours during construction included students from Salford University and the University of Central Lancashire.
Additional sustainability measures
More than 95% of construction waste recycled and diverted from landfill.
Low flow sanitary fittings throughout, reducing water use.
Water leak detection raises alarms on the BMS if there is excessive usage, out of hours usage or continuous usage, which could indicate a leak.
External fabric wholly re-used in situ and new materials selected with energy management certificates for the supply chain process.
Ecological assessments to establish local wildlife needs, resulting in bat boxes at roof level.
Future proofing, with large, open floorplates that can be adapted by occupiers to suit their needs without significant building form alteration, e.g. floors designed to split easily into two or four separate demises.
Financials
Benefits
Extending the building's useful life, blending heritage with contemporary design to provide:
90,000 sq ft of Grade A office space that is attractive, flexible, efficient and promotes wellbeing.
18,000 sq ft of ground floor retail and leisure space and basements.
Enhanced occupier appeal, with all office space fully let on completion, including new Manchester HQ for Amazon.
Strong sustainability credentials, achieving BREEAM Very Good (Offices 2008, Major Refurbishment) and EPC B, within the original building fabric.
Improved energy efficiency, cutting costs and CO2 emissions, and improving the EPC rating from E to B.
Contributing to the vibrant new community at NOMA, hailed as an innovation district by leading US think tank, the Brookings Institution.
Socio-economic benefits for society, by supporting local jobs and skills development, as well as providing attractive amenities and public realm.
Ultimately generating stronger income for clients, by attracting and retaining occupiers, reducing vacancy periods, cutting operating costs and increasing property value.
Challenges & Achievements
THERMAL PERFORMANCE
How to bring old roofs and windows to modern energy efficiency standards?
This was a risk to achieving satisfactory BREEAM and EPC outcomes. The Grade II listing meant that interventions such as new roofs and windows were not permitted. Although it might have been possible to negotiate relaxations with the local authority, the client brief for the project was to provide Grade A space whilst minimising the impact on the historic fabric. Areas of existing slate roof were therefore dismantled, insulated and re-laid, incorporating insulation to exceed current standards. Secondary glazing was introduced to improve air tightness and window thermal performance and reduce noise intrusion from trams and the city environment. The secondary glazing was designed to be sympathetic to the existing window casements and add to the character of the space.
HERITAGE
How to retain existing features and keep them on display?
The ceilings at Hanover House have original moulded plaster details that Hermes and Manchester City Council planners wanted to retain and keep visible. Most modern commercial buildings hide servicing equipment behind suspended ceilings. The team at Hanover House considered a part suspended ceiling solution that would leave some areas visible. However, Hermes felt that this would not make best use of the features and various textures of the space. The M&E engineer was therefore tasked with developing a solution for heating, ventilation and air conditioning (HVAC) and lighting that would provide Grade A performance, whilst leaving the soffits relatively unobstructed. The HVAC solution was a below floor, down flow system, with all ductwork concealed beneath a raised floor, leaving the soffit visible. Unobtrusive light fittings were chosen so as not to detract from the moulded details, with up lighting to emphasise the features and promote the different textures of the space.
BUILDING FORM
How to incorporate enough WCs whilst limiting impact on building form?
Modern offices require WC accommodation for a certain occupancy density. At Hanover House, the existing building core was integral to the massing and form of the floor plates. Significant change to the WC core would be damaging to the special interest, so significant enlargement of the WC core was to be avoided. A space planning study to assess the core size needed to accommodate WCs for an occupancy of 1:8 revealed that the impact would be too great. Analysis of working and occupancy patterns was carried out to forecast how many WCs were likely to be required. Informed by this, WC accommodation was incorporated to an occupancy of 1:10, enabling the core to be kept to a size that complemented the existing building form. Services points were incorporated to future proof the floors, in the event of individual occupiers needing to augment their facilities.
For professional investors only. This document does not constitute a solicitation or offer to any person to buy or sell any related securities or financial instruments; nor does it constitute an offer to purchase securities to any person in the United States or to any US Person as such term is defined under the US Securities Exchange Act of 1933. It pays no regard to the investment objectives or financial needs of any recipient. No action should be taken or omitted to be taken based on this document. Tax treatment depends on personal circumstances and may change. This document is not advice on legal, taxation or investment matters so investors must rely on their own examination of such matters or seek advice. Before making any investment (new or continuous), please consult a professional and/or investment adviser as to its suitability. This document is not investment research and is available to any investment firm wishing to receive it.
Any opinions expressed may change. The value of investments and income from them may go down as well as up, and you may not get back the original amount invested. Any investments overseas may be affected by currency exchange rates. Past performance is not a reliable indicator of future results and targets are not guaranteed. Investing in property is an illiquid investment and may result in deferment of redemption of units. The value of the property is a matter of a valuer's opinion rather than fact. All figures, unless otherwise indicated, are sourced from Hermes. For more information please read any relevant Offering Documents or contact Hermes.
The main entities operating under the brand "Hermes" or "Hermes Investment Management" are: Hermes Investment Management Limited ("HIML"); Hermes Fund Managers Ireland Limited ("HFM Ireland"); Hermes Alternative Investment Management Limited ("HAIML"); Hermes European Equities Limited ("HEEL"); Hermes Real Estate Investment Management Limited ("HREIML"); Hermes Equity Ownership Limited ("HEOS"); Hermes GPE LLP ("Hermes GPE"); Hermes GPE (USA) Inc ("Hermes GPE USA") and Hermes GPE (Singapore) Pte. Limited ("HGPE Singapore"). HIML, HAIML and HEEL are each authorised and regulated by the Financial Conduct Authority. HAIML and HIML carry out regulated activities associated with HREIML. HIML, HEEL, Hermes GPE and Hermes GPE USA are each a registered investment adviser with the United States Securities and Exchange Commission ("SEC"). HGPE Singapore is regulated by the Monetary Authority of Singapore. Any HEOS engagement activities referred to in this document are not regulated. HFM Ireland is authorised and regulated by the Central Bank of Ireland. HREIML and HEOS are unregulated and do not engage in regulated activity.
Issued and approved by Hermes Investment Management Limited which is authorised and regulated by the Financial Conduct Authority. Registered address: Sixth Floor, 150 Cheapside, London EC2V 6ET.  Telephone calls will be recorded for training and monitoring purposes. Potential investors in the United Kingdom are advised that compensation will not be available under the United Kingdom Financial Services Compensation Scheme.
BD03196