LGIM Real Assets set a target for managing agents to ensure all buildings are managed to best practice energy benchmarks, as defined by the Better Building Partnership's Real Estate Environmental Benchmarks. To demonstrate how this could be achieved without increasing costs, the Head of Sustainability worked closely with the managing agent and contractors at 210 High Holborn, upskilling the team to integrate energy efficient options in every aspect of operations, from control system settings and planned maintenance to refurbishments of vacant floors. This resulted in a 71% reduction in energy use, with no additional capital costs to those incurred through efficient planned maintenance.   
Better managed building
£58,000 annual energy cost savings
Outperforming best practice energy target
Situation
Legal & General Investment Management (LGIM) Real Assets is one of the UK's largest real estate fund managers. LGIM Real Assets evaluates the performance of assets against benchmarks such as the Better Building Partnership's Real Estate Environmental Benchmark (REEB). Managing agents have a key performance indicator written into their contracts to achieve REEB Good Practice in all buildings.
In 2015, the Head of Sustainability, who has an engineering background, carried out energy audits across the portfolio and gave managing agents a top 10 list of things to do to improve performance. A year later, many of the actions had not been completed because the teams did not have the engineering expertise to tune the controls and instruct the building management system (BMS) contractors in the right way.
The Head of Sustainability decided to demonstrate that it was possible to exceed REEB, without incurring additional capital costs, at 210 High Holborn, as it was a high energy consuming asset. In 2015, energy consumption in this multi-occupied 1930s office building was over double the REEB target.
Actions
The Head of Sustainability held a technical meeting for all the parties involved in managing 210 High Holborn, to ensure that everyone understood the changes needed in the building from the outset. These included the managing agent, Property Manager, Facilities Manager, maintenance contractor and their BMS controls subcontractor.
The aim of the project was to embed efficiency into every aspect of building management.
Initiatives included:
Adjusting the optimum start and stop time clocks to align with occupancy times.
Setting on-demand control regimes, so boilers only come on when there is a call for heating from one of the floors and chillers only come on when there is a call for cooling.
Stopping simultaneous heating and cooling by adjusting the temperature set points for the fan coil units and ensuring the control loops were properly tuned.
Using night purging for natural cooling when appropriate.
Every time a pump, boiler or chiller is replaced or changed, tuning up the control system and setting all the software to ensure the control systems are still optimised.
When vacant space is refurbished, ensuring the project managers, contractors and control sub-contractors are all aware of the required control settings to ensure the building remains optimised. For example, contractors often hide temperature sensors in ceilings, where the temperature does not represent the environmental conditions that users experience. This means that the controls are not able to provide comfortable temperatures to the space occupied by people.
During planned maintenance replacements, choosing high efficiency Heating, Ventilation and Air Conditioning (HVAC) equipment and lighting to ensure the building remains future proofed.
Building on results at 210 High Holborn, LGIM Real Assets asked the managing agent to roll out this approach to other office buildings. A group was formed, who understood what needed to happen to tune up these buildings, including the Facilities Manager, Property Manager and engineers.
They are now working with other building teams, maintenance contractors and BMS specialists to improve efficiency and achieve best practice targets. They keep a matrix of all the buildings and the opportunities in each one, reporting back to LGIM Real Assets through quarterly meetings, so LGIM Real Assets can monitor results.
Financials
No additional capital costs.
£58,000 annual energy cost savings, benefiting occupiers through the service charge and LGIM Real Assets by reducing the fund's annual non-recoverable costs, as the service charge is capped.
Benefits
An improved environment for the people who work there – with heating, cooling, lighting and fresh air controls managed for both efficiency and wellbeing.
71% reduction in energy use annually, supporting the sustainability goals of LGIM Real Assets and occupiers.
More lettable – lower occupational costs make buildings more attractive to occupiers. If service charges are much lower than industry averages, this may contribute to rental value, which ultimately increases asset value.
Less risk in the portfolio for investors, both individual and institutional, who are increasingly focused on social and environmental contributions, as well as economic returns.
Integrating efficiency into the refurbishment of vacant floors and ensuring occupier fit-outs maintained energy efficiency requirements raised the building's Energy Performance Certificate (EPC) rating to B.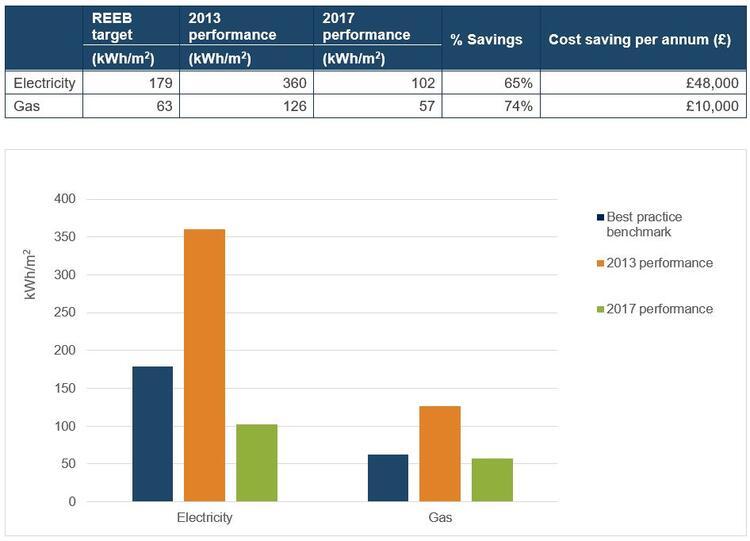 Challenges & Achievements
SKILLS
How to upskill building teams to deliver energy savings?
Since 2008, engineering skills in UK real estate have been in decline. Clients have driven the market through competitive tendering and demanding lower prices from managing agents, who have responded by having fewer skilled engineering staff. This strategy of cost minimisation is appropriate for one or two years during a recession, but it does not work when the long-term goal is to optimise buildings. The UK supply chain generally lacks the technical knowledge to operate BMS and HVAC systems effectively. At 210 High Holborn, LGIM Real Assets addressed this by applying the Head of Sustainability's engineering expertise. However, more widely, there is a need for a new technical services role to look after such things as sub-meters, plant, controls and fire alarms. This would be funded through the service charge, as it would deliver savings on both operating and maintenance costs by proactively resolving issues, increasing plant efficiency and reducing the chance of costly plant failure and replacement, and so energy and whole-life costs become lower.
OCCUPIERS
How to bring occupiers on board with energy efficiency initiatives?
In multi-occupied office buildings, the Facilities Manager (FM) has regular meetings with occupiers, including quarterly sustainability meetings. Occupiers also pick up the phone to the FM the minute there is an issue. So, the FM gets to know occupiers and builds up a good relationship. At 210 High Holborn, the managing agent anticipated that it might be challenging to bring some occupiers on board with aspects such as changes to the run time for equipment, temperature settings and on-demand controls. LGIM Real Assets said that they would provide support if needed. However, all that was required were a few targeted conversations. The FM met with occupiers to explain the changes and why they were being made, that it was in the interest of reducing the service charge and lowering environmental impacts for all occupiers in the building. Occupiers recognised the value of the approach and agreed to the changes.
DRIVERS
How to drive change across the industry?
The industry needs an operational rating scheme to incentivise design teams to design for operational efficiency and management teams to manage buildings to their efficiency potential. Currently, most UK rating schemes, such as EPCs and BREEAM Excellent, focus on design aspects that relate to theoretical performance rather than actual in-use performance. Through the Design for Performance project, LGIM Real Assets is working with others to  understand the opportunities of implementing a scheme such as Australia's NABERS (National Australian Built Environment Rating System), which is a Government owned operational rating tool. It rates actual in-use energy performance of base build services, which are typically under landlord control, such as heating, hot water, ventilation and air conditioning of the whole building, light and power in common areas, and the lifts. Since its introduction in 2002, NABERS has led to a design-for-performance culture, with typical new office base buildings using about half the energy they did when the system was introduced. In the meantime, LGIM Real Assets is using REEB to set building targets. Whilst not a rating scheme, it still provides a good initial target for building teams –  one that the 210 High Holborn team exceeded.
Find out more
Debbie Hobbs
Head of Sustainability
T+44 (0)20 3124 2805