The international business of Federated Hermes has significantly exceeded its industry-leading 2020 target to reduce absolute landlord-controlled carbon emissions by 40% against its 2006 baseline. The team has achieved these results primarily through collaborating with property managers, occupiers and sustainability consultant Carbon Intelligence over several years, along with the rollout of smart optimisation. This success across a portfolio of 175 directly managed properties, up from 105 in 2006, demonstrates how carbon emissions can be decoupled from portfolio growth. Importantly, efficiency savings have gone hand-in-hand with wellbeing improvements.
55% reduction in absolute CO2e emissions vs 2006
29,273 tonnes in annual CO2e savings
£639,000 total verified annualised energy cost savings
Supporting occupier wellbeing
Situation
As leading property investment managers, Federated Hermes seeks to deliver holistic outcomes by generating positive societal and environmental impacts in addition to attractive financial returns.
In 2006, Federated Hermes set a pioneering target to reduce absolute landlord-controlled carbon emissions across its directly managed standing portfolio by 40% in the years 2020 (compared to the 2006 baseline).
Drivers for this target included:
Reducing environmental impacts and supporting the climate transition.
Improving building management to support occupier comfort and wellbeing.
Federated Hermes initially achieved the target in 2012 after disposing of a number of assets (reducing the number from 105 in 2006 to 85 in 2012). Since 2013, Federated Hermes has renewed its focus on this target and worked closely with property managers, occupiers, Carbon Intelligence and the other investment teams in its business to roll out innovations and initiatives to reduce operational emissions in each property. Decarbonisation of the National Grid has also contributed to emission reductions.
Actions
Federated Hermes achieved its 2020 targets by upgrading assets, using technology to manage data and engaging with property managers and occupiers.
Carbon savings through asset upgrade
The Federated Hermes portfolio consists mainly of existing building stock. Over the years, it has undertaken several refurbishment projects to upgrade the buildings to improve their energy performance. Federated Hermes' Responsible Development and Refurbishment Guide informs all projects, ensuring that buildings are designed to high sustainability standards across areas that include energy, health and wellbeing, transport, water, materials and biodiversity. The Guide is aligned to the BREEAM methodology and is currently being updated to support greater progress towards net-zero, wellbeing and Design for Performance objectives. Some project examples that contributed to this reduction in carbon are:
Certification: Following a successful pilot of BREEAM In-Use across seven properties in 2018, Federated Hermes rolled out certification across 29 properties and has 15 assessments in the pipeline. This is a game changer, as the certification of operational buildings focused on asset performance in operation and the data gathered is integrated into its asset-improvement plans.
Renewables: Use of renewables in new and refurbishment projects. In 2015, Federated Hermes installed 336m2 of photovoltaic panels in its Crystal Peaks shopping mall and retail park. This produces over 90,000kwh per year, which is used on site and exported to the grid.
Innovation: At Centre Milton Keynes, Federated Hermes installed 1,000m2 of non-sedum carbon-neutralising roof with olivine. This will sequester nearly two tonnes of CO2e in its lifetime, offsetting the embodied carbon of the new roof.
Carbon savings through use of technology
To improve energy efficiency in existing buildings, Federated Hermes used technology to enable visibility of the data. In turn, this enables operational efficiency and cost savings.
CAPP: Federated Hermes' Collaborative Asset Performance Programme (CAPP) is an optimising technology that was designed in conjunction with Carbon Intelligence. This has improved both building performance and engagement with stakeholders to reduce energy use and improve conditions for occupiers. First piloted in 2016, CAPP has now been implemented in 14 high-energy-consuming properties, with over £300,000 in annual savings.
Refurbishment: By implementing technology, Federated Hermes identified a series of free and low-cost improvements. These include adjustments to building-management systems and boiler sequencing, lift-control changes, toilet refurbishments, LED upgrades and water-source heat-pump replacements. Collectively, these have all delivered significant cost savings. At Hammersmith Grove, an office development, Federated Hermes was able to achieve £227,000 of verified energy savings (£152,000 net) and reduce energy consumption by 1.5 million kWh. At Centre Milton Keynes, this contributed to achieving 15% lower landlord-controlled emissions in 2019.
Smart metering: As part of refurbishment projects, Federated Hermes installed smart-meter technology in occupier areas. This allowed it to carry out a data analysis of utilities use, which created the opportunity to talk to occupiers about reducing energy consumption.
Carbon savings through engagement activities
Federated Hermes has worked collaboratively with its four property-management partners, CBRE, JLL, Savills and Workman, to implement its Responsible Property Investment (RPI) programme. Supported by Carbon Intelligence, Federated Hermes hosts an annual forum where all the managing agents come together to discuss key targets and programmes – such as carbon, wellbeing and BREEAM In-Use – for the coming year and share knowledge and best practice. To celebrate industry achievements, Federated Hermes also hosts annual RPI awards for managing agents, development teams and legal consultants. This introduces healthy competition, raises awareness of successful initiatives and encourages partners to continuously improve.
Federated Hermes' engagement activities have also helped the company reduce energy consumption across its assets. Some examples include:
Decarbonisation: Working with property-management partners to procure green electricity. JLL and CBRE currently procure 100% green electricity, accounting for 60% of the portfolio.
Certification: Green-building certifications have helped occupiers see where improvements have been made, which has delivered improved performance and cost efficiencies.
Green leases: To support occupier engagement on sustainability from the outset, Federated Hermes put in place a target to engage – where feasible – with all occupiers during lease negotiations. The intention is to include sustainability clauses in lease agreements.
Financial
£639,000 in total verified annualised energy-cost savings.
£310,000 in net annual energy-cost savings across 14 buildings with smart optimisation.
Capital investment in each building is based on three-year business-plan modelling.
Benefits
Reduced absolute landlord-controlled carbon emissions across the directly managed portfolio in 2019 (compared to the 2006 baseline). This saved 29,273 tonnes of CO2e.
Achieved Federated Hermes' carbon-reduction target a year early and supported the climate transition. This is only going to become more important to stakeholders as the world progresses towards net zero.
Delivered energy-efficiency savings to occupiers and reduced their carbon footprint to support their sustainability objectives.
Contributed to occupier comfort and wellbeing by improving plant performance and building operations, including temperature and air quality.
Improved investment value by increasing market appeal and reducing risk as climate legislation advances.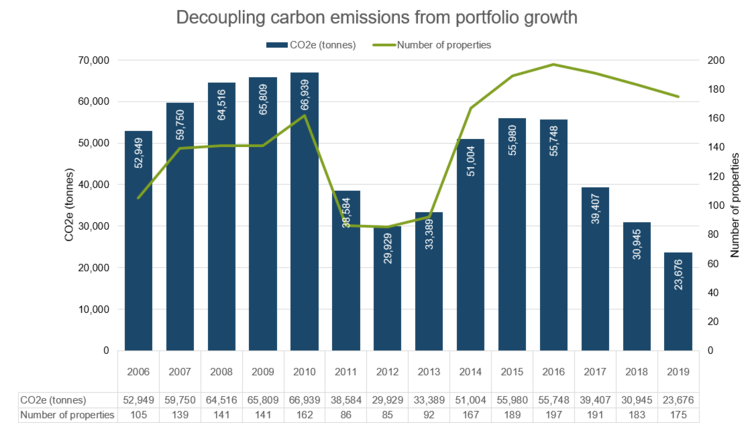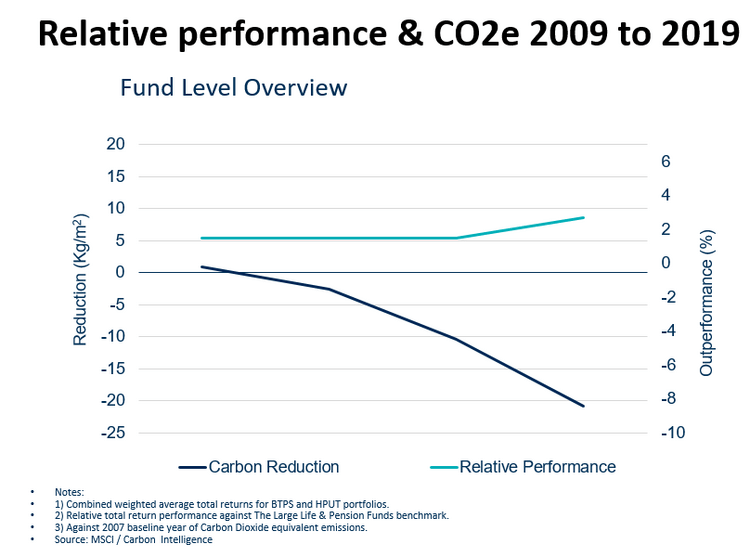 Challenges & Achievements
ENGAGEMENT
How to bring occupiers on board?
To progress improvement projects – and particularly those that involve capital investment or data sharing – there is a need to get occupiers on board to ensure they understand the goals and related benefits. For instance, adding energy monitoring to service-charge costs can help occupiers achieve greater savings on their energy bills within a short timeframe and reduce their carbon footprint. Successful schemes allow for flexibility, and it is important to understand what occupiers' businesses require, to learn from them and adapt the initial concept to support their needs. Across Federated Hermes' portfolio, this engagement process was led by the property managers who have close day-to-day relationships with occupiers. They integrated sustainability topics such as carbon reductions and wellbeing into business-as-usual meetings and communications, following up with specific sessions and updates where needed – particularly on larger projects or initiatives in major, multi-occupied buildings.
DATA
How to identify improvement opportunities?
To improve building performance, good-quality data must be consistently provided over time. Federated Hermes' RPI programme hinges on a continuous reporting cycle and Carbon Intelligence reports monthly, quarterly and annually on all directly managed properties. These reports detail the trends over the past two years, looking at energy use, carbon emissions, water consumption, waste management, renewable power and additional fuels such as LGP. In addition, property managers provide information on how they are engaging with occupiers and improving building performance. That flow of data offers Federated Hermes insights into where the programme is working and where additional focus is needed, including where to target investment. This information is fed into its RPI report, which is published annually.