intu has successfully partnered with a wide range of coffee retailers to set up the UK's first Compost Cafés, where shoppers can collect free bags of used coffee grounds to mix into compost for their gardens and allotments. Initially trialled at intu Chapelfield, Compost Café has now also been launched at intu Potteries and will be rolled out across many of intu's flagship destinations next year. Winner of a national environmental award, this ground-breaking initiative not only reduces waste to landfill, it also supports retailers and benefits the local community.
65% of cafés and restaurants participating at intu Chapelfield
2.3 tonnes of used coffee grounds recycled in the first three months
Over 1,500 bags picked up by visitors for use in their gardens and allotments
Positive feedback from retailers, shoppers and staff
Situation
As the owner of many of the UK's largest and most popular shopping centres, intu aims to create sustainable positive change in its communities and the environment. It runs a well-established nationwide recycling initiative, diverting 100% of waste from landfill and achieving high recycling rates. This supports retailers with their sustainability goals and contributes to intu's 2020 targets.
The Environmental Services Manager at intu Chapelfield came up with the idea of the Compost Café through intu's innovation hub, Green Lab. This identifies new sustainability initiatives and rolls out ideas to address environmental challenges that businesses and wider society face today. The intu team was keen to support retailers in making better use of the half a million tonnes of waste coffee grounds produced in the UK each year.
Actions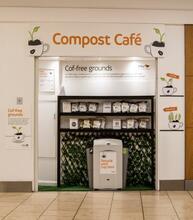 At a corporate level, intu's Head of Environmental Services drives the initiative, supported by the Corporate Responsibility Director.
The marketing team at intu Chapelfield has created an engaging identity for the Compost Café, so that it is appealing to shoppers. Visuals and stickers are available through intu's Frame portal.
In each centre, the environmental and marketing teams work together to identify a suitable location for the Compost Café. This can either be in a mobile unit on the mall or a unit within the centre.
Once this is agreed, a Coffee Champion from the centre's environmental team engages with retailers to secure their buy-in, supported by the centre's General Manager.
Participating retailers are then provided with a container to empty their used coffee grounds into. They also store their empty coffee bags, so that they can be refilled with the used grounds.
The centre's Coffee Champion visits retailers to collect the coffee grounds on an agreed schedule, typically either daily or every other day. Some retailers refill the bags with the used coffee grounds ready for collection. Others provide a tub or bag of coffee grounds, along with the empty coffee bags. The Champion then decants the coffee grounds into the bags back-of-house. Stickers are placed on each bag, including the name of the retailer. The number of bags collected from each retailer is logged on intu's Don't Waste app to track data for reporting.
The repackaged bags are placed in the Compost Café, on the shelf next to the relevant retailer logo. Shopping centre visitors can then pick up bags of used coffee grounds free of charge. Mixed with compost, the coffee grounds can provide valuable nutrients for plants. Demand currently outstrips supply.
Financials
Up to £900 investment per centre to create the Compost Café shop-front and produce 5,000 coffee bag labels. Centre costs and time are kept to a minimum through ongoing retailer involvement.
Benefits
2.3 tonnes of used coffee grounds recycled in the first three months, diverting waste from landfill and supporting intu's 2020 sustainability targets.
Over 1,500 bags of coffee grounds collected by shoppers for reuse in the first three months, providing them with a free service that can contribute to thriving gardens and allotments.
Positive engagement with retailers to reduce environmental impacts. Caffè Nero, Carluccio's, Ed's Diner, Krispy Kreme, McDonalds, Pret and Starbucks are amongst the retailers taking part.
Raising shopper awareness of environmental issues and opportunities.
Silver Environment Award in the national Green Apple Awards for Environmental Best Practice.
Empty coffee bags are also recycled, with used grounds repackaged in the bags that the coffee originally came in. Once visitors have used their coffee grounds at home, they can bring the empty bags back for further reuse.
Reducing waste management costs, truck miles and CO2 emissions.
Examples of positive feedback from retailers and shoppers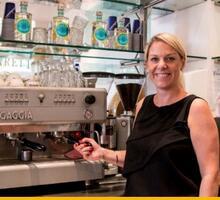 "The Compost Café project has been really easy to take part in, and we are pleased that the used coffee is now going to good use rather than to landfill. I love knowing that Norfolk gardens are going to be blooming as a result of using our unwanted waste." Lindsay Clifton, General Manager at Carluccio's, intu Chapelfield​
"We started our first veg patch this year and so we're going to add this used coffee to our compost and hopefully our veggies will be amazing, I think the project is really good. Lots of things need changing in the world. I feel like you need to do what you can for the environment." Ashley, Norfolk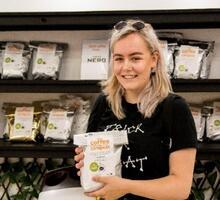 "I popped in to get a bag of coffee as I heard it's good for face scrubs, so I'm going to have a go at making my own!" Georgie, Norwich
Challenges & Achievements
ENGAGEMENT
How to secure retailer buy-in?
Retailers are often keen to get involved, as the project supports their own sustainability goals. At each centre, a Coffee Champion visits all the coffee retailers, talking with them about the project and explaining the rationale behind it, including reducing environmental impacts, providing a free service for shoppers, enhancing retailers' reputations locally and cutting waste management costs. They highlight brands that have already signed up at that centre or other intu destinations and provide examples of positive retailer feedback. The centre's General Manager also engages with retailers, including through occupier meetings. The environmental team then works with interested retailers to make the process run smoothly and efficiently in their stores from the outset. This includes agreeing how often retailers want their used coffee grounds to be collected, as well as sharing information on how other retailers handle the practicalities of storing coffee grounds and empty bags for refilling. Some retailers are able to fill the bags in store. Others request that intu's environmental team does it, for logistical reasons.
COFFEE CUPS
How to dramatically increase recycling of disposable coffee cups?
intu has also partnered with coffee retailers to tackle another sustainability challenge facing the coffee industry – low recycling rates for disposable cups. As part of a consortium of coffee retailers and property companies, led by Costa Coffee and Landsec, intu is exploring opportunities to revolutionise the lifecycle of disposable coffee cups. The 5% plastic insert inside these cups makes them difficult to recycle as it is hard to remove. In addition, UK legislation prevents papermills that produce food packaging from recycling disposable coffee cups, affecting a large majority of UK mills. Delivering cups to a mill that does not produce food packaging has logistical implications and increases transportation costs. Combined, these factors can make it economically unviable for mills to recycle coffee cups, particularly if the cups are not received in extremely large quantities or are contaminated with other waste. The consortium is trialling initiatives to dramatically increase the rate of successful recycling. This includes dedicated coffee cup recycling bins in store and signage alerting shoppers to the importance of separating cups from other waste. They are also looking at brokering relationships between coffee retailers and waste companies, improving the economies of scale and promoting a best-in-class approach to waste management.