LaSalle Investment Management and JLL's programme of events to nurture a dynamic and engaging culture for occupiers at 27 Great West Road has proved so successful that LaSalle has expanded it to two office parks, with plans for a wider rollout. Occupiers in each building influence the choice of activities, which are all designed to bring together employees from different businesses, creating a community within the building, as well as contributing to the local community. 
Enhancing occupier satisfaction
Contributing to occupier retention
Supporting LaSalle's sustainability strategy
Situation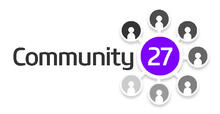 One of the world's leading real estate investment managers, LaSalle Investment Management believes that environmental, social and governance best practices enhance the performance of its clients' investments.
In 2017, LaSalle and managing agent JLL completed a refurbishment project and launched the 'Community 27' programme of events at 27 Great West Road, a seven-storey office building in Brentford, West London. Around 700 people work in the building, employed by occupiers SEGA, WorleyParsons, RGA and RSi.
Key drivers for the project included enhancing occupier satisfaction, supporting LaSalle's European sustainability strategy and contributing to occupier retention, with over 60% of office space at 27 Great West Road coming up for lease renewals over the coming four years.
Actions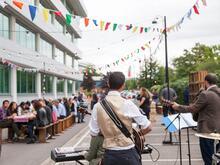 LaSalle and JLL carried out the refurbishment project in common areas, guided by LaSalle's Sustainable Development and Refurbishment Standards. In addition to increasing ground floor office space through an extension, the refurbishment:
Introduced a café, offering healthy food and opening up opportunities for occupier events.
Reconfigured the car park to introduce 80 cycle spaces and quality shower facilities for employee wellbeing.
Improved energy efficiency, achieving an EPC B rating, with high performance insulation and LED lighting.
The Community 27 programme of events launched at 27 Great West Road in September 2017, led by the Perception receptionist and JLL property team, and supported by LaSalle. The choice of activities was informed by occupier feedback gathered through a survey distributed to all employees in the building via occupiers.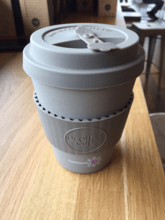 Launch activities included:
BBQ hosted in the transformed car park by retail marketing partner Bewonder and on-site café partner Caffè Kix. Over 40% of people working in the building attended the evening event, which featured a live jazz band and vintage outdoor games. This is now an annual event, with a different theme each year.
550 reusable takeaway cups branded Community 27 distributed free of charge to occupiers purchasing a hot drink in Caffè Kix. Made from bamboo fibre, the sustainable cups, which were produced by Ecoffee Cup, raised awareness of the Community 27 programme of events.
Regular activities include:
Weekly Vinyasa Flow Yoga sessions run in the café out of hours by The Light Centre. Over 50% of respondents requested Yoga and/or Pilates on site.
Weekly Bootcamp run by local personal trainer Draco in nearby Gunnersbury Park. 19% of respondents wanted access to Bootcamp fitness sessions.
Monthly Pop Up Nail Bar provided by Pamper Puff in occupier areas. Over 50% of respondents asked for a manicure service on site. Additional pamper and grooming options are also being explored.
Quarterly Book People sessions in the café, selling discounted books and gifts to occupiers. 27% of respondents wanted to see The Book People at 27 Great West Road. 10% of sales go to local charities.
Fundraising activities have included:
Charity quizzes hosted in Caffè Kix after hours.
Christmas present collections for local children in hospital.
Clothing collection for local homelessness charity SPEAR.
National events, such as Children in Need and Movember.
Hounslow Community FoodBox collections coordinated by one of the occupiers each quarter.
Other activities have included:
Events to celebrate religious festivals such as Christmas, Diwali, Easter and Eid Mubarak.
Activities for Mental Health Week, Wellness Week and Save the Planet Week.
Sports opportunities, e.g. tennis during Wimbledon.
Building on the success of this programme, LaSalle has used Community 27 as a template for activities in two office parks, working with other supplier partners. Drawing on this experience, they will create a comprehensive template for rollout with trusted suppliers across more properties in 2020. JLL has also rolled out similar programmes at additional properties.
Benefits
Promoting occupier health and wellbeing.
Enhancing occupier satisfaction.
Positive occupier feedback, e.g.
"Very nice to mix with our fellow occupiers on a social basis." WorleyParsons on the BBQ
"It was brilliant – well done!" SEGA on the BBQ
"I had tried yoga a couple of times but never took to it... I was persuaded to try these classes and surprised myself by thoroughly enjoying them." RSI
"I really enjoyed the Bootcamp experience. The right motivation, the positiveness and guidance in moving forward are amazing." RSI
"Great treatment from the lady who did my nails yesterday." RGA
"Book sales are great." WorleyParsons
Contributing to occupier retention, maintaining 100% occupancy following renewals on 61% of office space.
Supporting the Sustainable Investment Culture pillar in LaSalle's European Sustainability Strategy, creating workplaces adapted for health, wellbeing and productivity, as well as for evolving occupier expectations about amenities.
Raising awareness of social and environmental issues in the wider community and over £1,400 for charity.
Challenges & Achievements
ENGAGEMENT
How to bring together employees from different businesses?
The property management team recognised that understanding what activities occupiers wanted would be key to the success of the programme. In the first year, JLL sent a survey on potential opportunities to 25 representatives of each occupier. This influenced the choice of activities, themed around health and wellbeing. In the second year, four people from each occupier were invited to a focus group. JLL also asks occupiers for feedback during every occupier meeting, sharing ideas and suggestions. Occupiers also now often proactively invite each other to their events. Although Community 27 started as a collaborative effort by LaSalle and JLL, its success lies in the enthusiasm of occupiers to engage and get involved.
ROLLOUT
How to expand the programme to more properties?
At each property, LaSalle first identifies a suitable internal space for communal events and then a suitable supplier partner. The supply partner and managing agent then carry out an occupier survey on proposed activities, before finalising a property-specific programme and budget. LaSalle then secures internal buy-in to fund costs for the first few years, after which it will be reviewed. The relevant service providers are contracted and the programme is launched. Continued engagement with occupiers and providers allows LaSalle to evolve the programme in response to feedback.