Smart-Enabled for a Truly Sustainable Future – The JJ Mack Building
17 October 2022
Smart-Enabled for a Truly Sustainable Future – The JJ Mack Building
17 October 2022
The JJ Mack Building in London is Helical's smartest and most sustainable development to date. It is not only climate resilient – designed for carbon efficiency and adaptable to changing environmental conditions – but also at the forefront of what is possible in terms of occupier experience and wellness. It sets a new benchmark by which Helical will measure all future buildings.
Key Facts
UK's first BREEAM Outstanding (2018) at the design stage
NABERS Design for Performance 5 Star target
Energy Performance Certificate (EPC) A
50 out of 50 Considerate Constructors Scheme
Situation
The JJ Mack Building is a joint venture development between Helical and AshbyCapital. Located at 33 Charterhouse Street in London EC1, the c19,000m2 building is designed by Lifschutz Davidson Sandilands. Mace Group is responsible for the construction phase. Having completed in September 2022, it provides ten floors of smart-enabled office space, with terraces on three levels and retail units on the ground floor.
When Helical and AshbyCapital acquired the development site in May 2019, they recognised that the market was at a pivotal point in defining what a truly sustainable building would look like. They also realised that technology was a key part of the puzzle. As Helical's largest development project, The JJ Mack Building presented opportunities to test the capabilities of smart building technology to enhance the occupier experience, optimise building performance in use and advance progress on Helical's ambitious whole life carbon reduction targets, including:
Net zero carbon by 2030.
Embodied carbon target for new development of 600kg/CO2/m2 by 2030.
Operational energy intensity of 90kWh/m2 by 2030.
Actions
Helical and Mace partnered with WSP and SmartSpaces to create Building Information Modelling (BIM) foundation for the design, which led to a fully functioning 'digital twin' of The JJ Mack Building, encompassing all physical structure and building systems. During construction, the BIM model contributed to programme efficiencies, enabling Mace to:
Embrace modern methods of construction: Many elements were prefabricated off site, such as air ductwork and pipework for heating, cooling and water. With components already precision-engineered off site and test fitted virtually, the site team was able to simply lift and fix them into place, streamlining construction.
Optimise site efficiency: Project managers tour the site to check work each day. The BIM model and digital twin, which is viewed via an iPad, displays any installation errors, which can then be rectified immediately. This technology has significantly reduced the number of installation errors, in some cases by up to 99%.
The digital twin will also be available to occupiers' fitout contractors and to future purchasers of the building. It will provide detailed and accurate information – to allow their fitout to progress seamlessly and then map their environment, keeping the digital twin current and live with up-to-date information about the building.
In use, approximately 1,500 sensors throughout the building will feed real time data into the digital twin. This will enable the building team to monitor and control building systems for efficiency and wellness, tailoring whole building performance to the needs of occupiers and the highest sustainability standards. Each floor is split into four zones, so heating, lighting and cooling can be localised and only activated where needed, avoiding unnecessary energy use in vacant areas. An intelligent and dynamic water management and recycling system links directly to live weather data (see Water saving below).
Information from the digital twin will also feed into a bespoke app for occupiers. On each floor, environmental systems can be controlled via the app, including lighting, heating, cooling and blinds (where installed). Occupiers can set levels of control by floor, by zone or even by specific fan coil unit, blind or light fitting, supporting space personalisation and individual comfort.
In addition, data from movement sensors will enable the building team and occupiers to implement needs-based cleaning, identifying high and low occupier traffic areas and adjusting services as needed. This will deliver cost and carbon savings, while maintaining a great building environment.
Extra features to enhance the occupier experience via the app include touch free access right to their desk, meeting room and desk booking, and live data on building performance, including air quality, energy use and water consumption. Users will also be able to access information on building amenities, events, operational manuals and an occupier directory, along with local information on weather, travel, community, entertainment and special offers.
Whole life carbon
Intelligent material choices to reduce embodied carbon include aluminium with high recycled content, low carbon concrete with cement substitutes, UK-produced structural steel with high recycled content, recycled raised access flooring and reclaimed lights and bricks. All residual carbon is in the process of being offset making The JJ Mack Building net zero carbon.
Operational emissions will be reduced through connection to Citigen, a large district heating and power network located nearby. This not only allows the building to benefit from Citigen's continual investment in low carbon energy technologies but also eliminates the need for in-building plant, creating extra space. The roof of the building houses 144 photovoltaic panels (327W), generating clean power. As a result of these sustainable, intelligent and renewable technologies being designed into the fabric of the building, carbon emissions at the building will be 52.8% lower than the Targeted Emissions Rate.
Water saving
Rainwater is harvested from the terraces and the green roof, flowing into storage areas via gravity. Greywater is also gathered from showers and taps. The smart system mixes attenuated water and responds to changing environmental conditions, using live weather data to 'anticipate' rainfall. For instance, rainwater run-off release slows in periods of no rain, to substitute the use of potable water for non-potable functions like toilets. Both greywater and rainwater are organically treated, filtered and then recycled to flush toilets throughout the building. Other water saving design factors include low flow fixtures. Every m3 of potable water saved will reduce the carbon footprint of the building by 1kg CO2e, saving up to 2,680kg of CO2e annually.
Wellness
The building is designed to allow all occupants to fitout their space to a WELL Platinum standard, where future occupiers opt to apply for formal certification through their fitout. Aspects such as air quality, light, movement, thermal comfort and mindfulness are all part of the building design.
Multiple air quality sensors on each floor will monitor breathable volatile organic compounds (VOCs), humidity, CO2 and particulate matter. The building management team will use this data to optimise air quality, with enhanced fresh air supply of 16 litres per person per second. Occupiers can view air quality performance via the app and on screens in communal areas. Low VOC choices during construction will also contribute to air quality, including a new steel paint coating that has 90% lower VOCs than conventional paint and lasts the life of the building.
To support active commutes, there are 426 cycle spaces – one for every five occupants, a 60% improvement on current guidance – along with 672 lockers, 30 luxury showers, changing rooms, a drying facility and a bike repair station. The building offers access directly onto cycle superhighway CS6 and is just 100m from Farringdon station, a major transport interchange for both London Underground and Crossrail.
For a thriving local ecology and occupier wellness, the building features 750m2 of biodiverse green roof, seeded with indigenous species and wildflowers, along with two bee colonies and a green wall. Over 800m2 of external terraces are accessible from three floors. The building is a five-minute walk from the two-acre Charterhouse Square Park.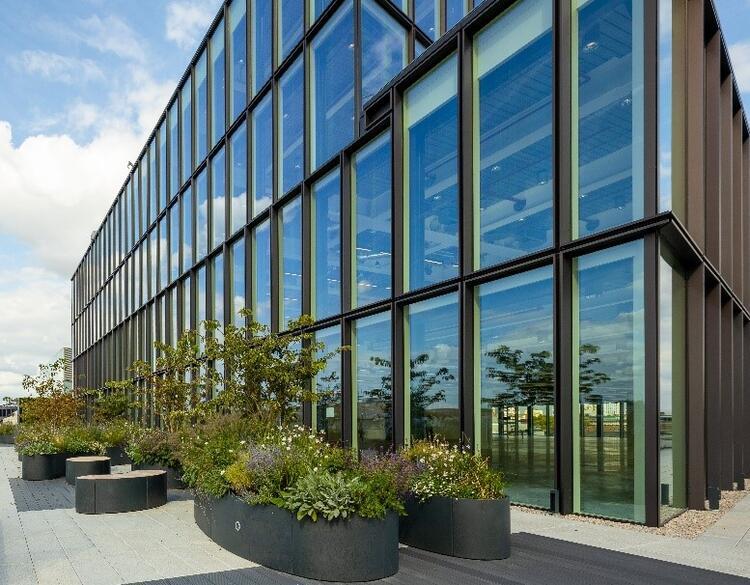 Looking forward
Helical is now using The JJ Mack Building as the benchmark for all new projects, striving to achieve BREEAM Outstanding and integrating the latest smart building technology to challenge carbon and enhance the occupier experience.
Financial
Helical and AshbyCapital agreed a suitable budget to cover any additional costs for leading on smart building technology, sustainability and occupier wellness. However, nearing the end of the project, it has become clear that through the use of smart technology there have been overall programme savings, and low carbon materials choices have not significantly increased construction costs. Intelligent building systems will also reduce future operational costs.
Benefits
First building in the UK rated BREEAM Outstanding 2018 New Construction at the design stage, achieving an overall score of 89.
Targeting NABERS Design for Performance 5 Star – demonstrating market leadership in operational efficiency.
52.8% lower operational emissions than Building Regulations Part L (2013) – advancing progress towards Helical's net zero target.
42% lower embodied carbon than the current 'business as usual' benchmark (RIBA 2030 Climate Challenge), at 815kg CO2e/m2 – exceeding Helical's 20% target.
62% less mains water consumption than the baseline, thanks to reclaimed water and low flow fittings.
50 out of 50 Considerate Contractors Scheme. A perfect score.
SECBE Constructing Excellence Awards 2021 – Digital Construction Winner.
This all enhances the marketability of The JJ Mack Building and supports the sustainability goals of Helical and occupiers.
Challenges and Achievements
SMART
How do you integrate smart building technology?
One of the biggest challenges – and opportunities – is how quickly technology is advancing. Helical worked hard to develop a combined Building Management System (BMS) and Converged Network System (CNS), creating a 'nervous system' for the building. It was critical to ensure that systems throughout The JJ Mack Building are malleable and can be updated as technology shifts in the coming years, without prohibitive cost or data language barriers. The latter can be an issue in older buildings, where the building management system (BMS) only uses a single data language, whereas the industry has moved on. Helical also prioritises digital security, working with expert partners to deliver robust and secure systems. It is now taking learnings from The JJ Mack Building onto new projects.
*Please note that the information on this page was supplied by the MAP Member and the BBP assumes no responsibility or liability for any errors or omissions in the content