Hermes Investment Management, JLL and Carbon Credentials have collaborated to bring RESET Air to Europe. 33 Glasshouse Street in London has become the first Certified RESET™ Air - Core & Shell project in Europe and the third in the world. This empowers the facilities team to identify ongoing opportunities to improve indoor air quality and certifies it to an international standard.
Indoor air quality at 33 Glasshouse Street exceeds industry benchmarks
Providing a healthier work environment
Air samples taken every 15 minutes to optimise management
Real-time data displayed to occupiers
Situation
33 Glasshouse Street consists of office space above 100 Regent Street, on the north side of John Nash's iconic curve, just north of Piccadilly Circus. The building underwent a major refurbishment in 2015/16, redeveloping the entire office core, including new central plant.
The offices notably sit above an area of continuous high traffic density, in a zone which is often perceived as having an elevated level of local air pollution. This made the site an ideal location to pilot RESET as an engagement tool with building occupiers.
RESET™ Air - Core & Shell tracks and communicates the health performance of buildings using real-time data monitoring. This helps owners attract occupiers, maintain asset value, and reduce the potential liability associated with underperforming buildings.
Actions
RESET certification has been identified as best practice in Hermes Investment Management's "Development and Refurbishment Sustainability Requirements" since 2016. It is a part of a wider programme of innovative but practical health and wellbeing collaborations across the portfolio, including a programme with JLL and Carbon Credentials using wellbeing initiatives to increase occupier engagement at four other multi-occupied sites.
RESET ensures that the air provided by the central plant to occupiers of the building meets high performance standards. It does this by monitoring and reporting levels of particulate matter (PM2.5), carbon dioxide (CO2), and Volatile Organic Compounds (VOCs) in the outside air supply and comparing these to the air supplied from the central plant to internal spaces, ensuring they are not at a sufficient level as to adversely affect human health and wellbeing or potentially productivity.
To maintain RESET Air - Core & Shell, the air is actively monitored, with samples taken every 15 minutes. This data is analysed by Carbon Credentials' ADAPt data platform, with alarms sent to facilities managers if any issues are detected so that they can respond quickly. There are two multi-sensors at 33 Glasshouse Street, monitoring the various indoor air quality indicators. They are located close to the main Air Handling Unit, to meet the RESET standard for sensor arrangement.
RESET Air - Core & Shell works in conjunction with Carbon Credentials' Collaborative Asset Performance Programme, where settings and controls in the Building Management System (BMS) are actively monitored. Linking the latest sensor technology to the BMS and ADAPt data platform makes this landmark office space a positive example of smart buildings in action.
Carbon Credentials has invested in becoming RESET Cloud compliant, with the ability to deliver the sensor and communications hardware, performance analytics, public dashboards and engagement services to make indoor air quality and wellbeing a successful part of its data-enabled building performance programmes.
Financials
Typical costs for RESET are around £10,000-£50,000 per building, covering RESET certification and maintenance, and the support of a RESET Accredited Professional such as Carbon Credentials, along with sensors and other hardware and software. Each project is relatively bespoke, based on the size of the building, complexity of the HVAC plant and the number of Air Handling Units, which affects the number of sensors needed.
Benefits
With an increasing focus on healthier work environments, RESET provides a certification which is operational and demonstrates quality management in buildings, using real-time data on an ongoing basis.
Sitting above Regent Street, particulates were an area of interest at 33 Glasshouse Street. Data from November, shown in the chart below, evidences that indoor air quality significantly outperforms standard industry benchmarks, used by both RESET and the WELL Building Standard.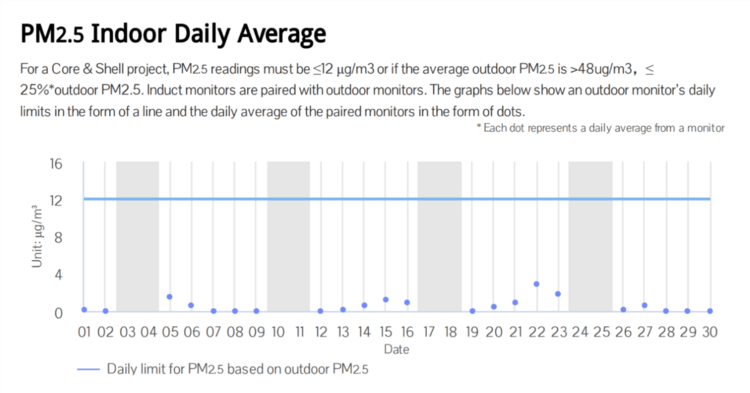 Chart: Particulates data from the November RESET Data Audit report.
Tim Hutchen, Director - Property & Asset Management, JLL: "RESET offers us the ability not just to demonstrate that we are undertaking air quality monitoring, but to benchmark the quality level it is sustained at. While much of the market may audit air quality, far fewer will be able to show compliance with benchmarks. This is a really exciting initiative and we are delighted to have achieved this."
Paul Lewis, CEO, Carbon Credentials: "Indoor air quality is a complicated issue in buildings and it can be challenging to provide excellent conditions for occupants. RESET provides active monitoring of the performance of indoor air quality and verifying to best practice, making sure that tenant areas are healthy spaces. In commissioning the first RESET Air - Core & Shell project in Europe, Hermes Investment Management continues to demonstrate pragmatic leadership in sustainability in commercial real estate. We are proud to be able to support this project and collaborate with JLL to achieve this standard."
Challenges & Achievements
IMPROVEMENT
How to improve indoor air quality?
At 33 Glasshouse Street, indoor air quality data is gathered through sensors that measure CO2, particulate matter, Total Volatile Organic Compounds (TVOCs), temperature and relative humidity. Results stream to the cloud, where they can be viewed by the property team in real-time from any computer or mobile device. This gives the property team insights into opportunities to improve air quality. RESET sets a benchmark, which the introduced air should achieve and, informed by the sensors and monitoring, the property team can make sure it meets these levels. For instance, the team improved CO2 levels by optimising air recirculation for heat recovery based on actual data rather than standardised calculations.
DATA
How to display real-time air quality data to occupiers?
To show live data at 15-minute intervals, the data flow needs to be very robust, with no gaps in data handling. Hardware and data transfer systems must also be detailed and have resilience, which requires a lot of testing, not just of the sensors but of data transfer and calculation. At 33 Glasshouse Street, real-time air quality data will be available to occupiers via a screen in the reception area. This is a positive way of engaging with occupiers on air quality and demonstrating quality management in their building. The data process also includes routine transfer to RESET's online systems to maintain certification.
For professional investors only. This document does not constitute a solicitation or offer to any person to buy or sell any related securities or financial instruments; nor does it constitute an offer to purchase securities to any person in the United States or to any US Person as such term is defined under the US Securities Exchange Act of 1933. It pays no regard to the investment objectives or financial needs of any recipient. No action should be taken or omitted to be taken based on this document. Tax treatment depends on personal circumstances and may change. This document is not advice on legal, taxation or investment matters so investors must rely on their own examination of such matters or seek advice. Before making any investment (new or continuous), please consult a professional and/or investment adviser as to its suitability. This document is not investment research and is available to any investment firm wishing to receive it.
Any opinions expressed may change. The value of investments and income from them may go down as well as up, and you may not get back the original amount invested. Any investments overseas may be affected by currency exchange rates. Past performance is not a reliable indicator of future results and targets are not guaranteed. Investing in property is an illiquid investment and may result in deferment of redemption of units. The value of the property is a matter of a valuer's opinion rather than fact. All figures, unless otherwise indicated, are sourced from Hermes. For more information please read any relevant Offering Documents or contact Hermes.
The main entities operating under the brand "Hermes" or "Hermes Investment Management" are: Hermes Investment Management Limited ("HIML"); Hermes Fund Managers Ireland Limited ("HFM Ireland"); Hermes Alternative Investment Management Limited ("HAIML"); Hermes European Equities Limited ("HEEL"); Hermes Real Estate Investment Management Limited ("HREIML"); Hermes Equity Ownership Limited ("HEOS"); Hermes GPE LLP ("Hermes GPE"); Hermes GPE (USA) Inc ("Hermes GPE USA") and Hermes GPE (Singapore) Pte. Limited ("HGPE Singapore"). HIML, HAIML and HEEL are each authorised and regulated by the Financial Conduct Authority. HAIML and HIML carry out regulated activities associated with HREIML. HIML, HEEL, Hermes GPE and Hermes GPE USA are each a registered investment adviser with the United States Securities and Exchange Commission ("SEC"). HGPE Singapore is regulated by the Monetary Authority of Singapore. Any HEOS engagement activities referred to in this document are not regulated. HFM Ireland is authorised and regulated by the Central Bank of Ireland. HREIML and HEOS are unregulated and do not engage in regulated activity.
Issued and approved by Hermes Investment Management Limited which is authorised and regulated by the Financial Conduct Authority. Registered address: Sixth Floor, 150 Cheapside, London EC2V 6ET.  Telephone calls will be recorded for training and monitoring purposes. Potential investors in the United Kingdom are advised that compensation will not be available under the United Kingdom Financial Services Compensation Scheme.
BD03196