GPE's internal carbon price of £95 per tonne, which originally launched in 2020, is transforming behaviour and driving innovation in the race to net zero. Covering both embodied carbon and operational emissions, this internal carbon price goes further than others in the UK real estate sector. All contributions feed into a Decarbonisation Fund, created to support the deep retrofitting of the existing portfolio, further accelerating the transition to net zero and building in climate resilience for the future of London. 
£95 per tonne internal carbon price
£403,750 Decarbonisation Fund in first year
Lower carbon spaces for occupiers
Reduced risk of stranded assets for investors
Situation
As one of the founding signatories of the BBP Climate Commitment, GPE has developed a roadmap to decarbonise its business and be net zero by 2030. This followed on from the launch of its Sustainability Statement of Intent, 'The Time is Now', which sets out the four pillars of GPE's approach to sustainability.  
In developing this roadmap, first published in November 2020, GPE identified that, even if it achieved its ambitious targets to reduce both embodied carbon and energy intensity by 40% by 2030, there would still be around 18,000 tonnes of projected emissions to offset annually. This focused attention internally on how to decarbonise faster.
Drivers for becoming a net zero carbon business include:
Occupiers increasingly demanding buildings with the highest sustainability credentials.
Changing regulatory environment, including minimum Energy Performance Certificates (EPCs) of B by 2030, whilst around 80-90% of London commercial real estate is currently rated C or below.
Growing investor focus on environmental, social and governance (ESG) policies and performance, recognising that this will impact asset value.
Actions
 
GPE's sustainability team completed a review of best practice, peer activity and the latest research around net zero carbon. This led to a series of recommendations, including:
Introducing an internal carbon price of £95 per tonne. Whilst some companies use a shadow carbon price, GPE concluded that this approach wouldn't have offered a real financial incentive. In setting the price, the team considered a range of factors. Although the cost of quality offsets is currently around £25 a tonne, this is likely to rise due to increasing demand and growing evidence that it does not cover the full cost of carbon. The UN Global Compact is calling on companies to set a minimum internal price of $100 (£76) per tonne. 
Given the speed of change, the price also needs to be at a level for stability over lengthy development projects, and substantial enough to motivate desired behaviours.
Establishing a Decarbonisation Fund to support energy efficiency projects and other initiatives to substantially reduce carbon emissions associated with existing buildings.
The sustainability team took these recommendations to the Sustainability Committee, which is chaired by Chief Executive Toby Courtauld and comprises Executive Committee members from across the business. There was full support for the internal carbon price and a desire to move even faster. 
The Sustainability Committee upgraded the internal carbon price to cover not only embodied carbon on developments (Scope 3), as initially recommended, but also operational emissions (Scope 1 and 2). This scope exceeds what others in the UK real estate sector are doing, demonstrating industry leadership.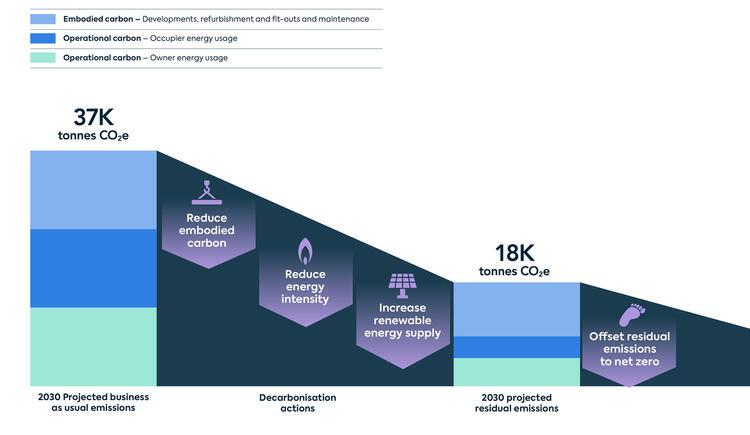 Development portfolio
GPE is integrating the internal carbon price into development appraisals, incentivising design and development teams to reduce carbon throughout project build stages. This drives circular economy progress through reuse of materials, positioning of cores and pre-fabrication. Contributions into the Decarbonisation Fund are calculated at definitive appraisal and paid at practical completion.
50 Finsbury Square will be the first development project to feed into the Decarbonisation Fund. Due to complete in Autumn 2022, it will contribute an estimated £600,000. However, as the project team is now financially incentivised throughout the build to cut carbon, this could be reduced. Embodied carbon savings have already been achieved by retaining the structure, recycling cladding and reusing glazing. The project is also designed to be highly operationally efficient and adaptable for a wide range of potential future uses. 
Existing portfolio
In the first year, the internal carbon price from Scope 1 and 2 operational energy use contributed £403,750 to support decarbonisation initiatives across the existing portfolio. This is allowing property and technical services teams to be more ambitious around retrofit opportunities, rather than being limited by service charge constraints. The property and technical services teams submit the business case for proposals, as they are closest to what each building needs. The Sustainability Committee then assesses proposals.
Examples of proposals under review 
Building Management System (BMS) upgrade: Replacing existing BMS controls in an energy-intensive building with a self-learning BMS controls and optimisation system. This monitors and optimises BMS performance, drawing on a range of data, including energy meter inputs and daily weather forecasts, to determine the building's thermal response and automatically adjust set points. This would replace the current system around five years ahead of the end of its economic life. The shortlisted provider offers an insurance-backed guarantee that stated savings will be achieved.
Total project cost: £297,000.
Estimated annual energy savings: 2,195,000 kWh.
Estimated annual carbon savings: 535 tonnes CO2e. 
Estimated return on investment: Within 1.5 years.
All-electric heating solution: Replacing a gas-fired boiler with an all-electric heating system and replacing radiators with direct electrical heaters. This solution incorporates DX coils with a low-energy, reverse integral refrigeration circuit that can heat or cool supply air from Air Handling Units (AHUs). Additional benefits include reducing maintenance requirements by around 50% and improving resilience.
Total project cost: £195,000.
Estimated annual energy savings: 72,245 kWh.
Estimated annual carbon savings: 43 tonnes CO2e. 
Estimated return on investment: Within 16 years.
Financial
£95 per tonne internal carbon price creates a real financial incentive for development teams to reduce embodied carbon and for property teams to optimise operational energy efficiency.
£403,750 contribution to Decarbonisation Fund in first year, which will fund retrofitting improvements for the existing portfolio to further reduce operational emissions and build in climate resilience. In some cases, the Decarbonisation Fund may be used to bring forward investment that can later be recouped through the service charge. This ensures that energy savings are delivered to GPE customers as soon as possible.  
Benefits
Driving behavioural change and innovation to decarbonise the business faster. The internal carbon price provides a financial incentive that shifts behaviours faster and more substantially than ambitious targets alone.
Demonstrating to occupiers that GPE is a proactive landlord that operates buildings efficiently, proactively seeks to deliver net zero space and helps occupiers achieve their own ESG goals.
Creating the highly sustainable buildings that occupiers demand and thus reducing the risk of stranded assets. Sustainability is increasingly a differentiator between the best space and the rest. 
Reducing the carbon emissions that GPE will have to offset annually from 2030, with more value for the business in funding internal offsets that contribute directly to improvements within the portfolio. 
Opening a potential avenue for future acquisitions of buildings with poorer sustainability performance that GPE then retrofits and repositions into highly sustainable real estate.
Challenges & Achievements
ENGAGEMENT
How to engage with occupiers on retrofitting improvements?
Major retrofitting projects impact on occupiers in different ways, so occupier engagement is needed at a range of levels, including portfolio managers, property directors, occupier services managers and technical property services teams. For instance:
In the building where GPE is considering upgrading the BMS controls, the heating and cooling plant currently runs out of hours, as a few occupiers operate 24/7 and the existing system does not allow for zoned use; the plant is either all on or all off. With the introduction of the new BMS, which enables local controls, considerable savings could be achieved by installing local heating and cooling, with occupier agreement. Occupier engagement would also be needed around lease adjustments, as the current leases specify 24/7 heating and cooling. 
In the building where GPE is looking at replacing gas boilers with an all-electric system, occupiers are responsible for procuring their own electricity. To ensure the right plant is specified for occupier demand, GPE would need access to occupier energy data. Here, the local Occupier Services Manager is leading discussions with occupiers.
Early discussions with occupiers have been very positive, with improvements supporting occupiers' own ESG goals and often providing service charge savings over the long term. The initial response from joint venture partners is also promising, with willingness to match investment to improve assets.