The sustainable design and operational performance of commercial offices will have direct financial implications for the occupiers that use them. This can be in terms of operational and regulatory compliance costs, as well as, and with increasing importance, the impact the office environment has on staff health, wellbeing and productivity.
By incorporating sustainability within the fit-out process occupiers can enhance staff performance, better attract and retain talent, minimise running costs, and reduce regulatory compliance risk. Additionally, sustainable fit-outs can be used to strengthen brand through alignment with broader CSR objectives, and help bring increased stakeholder trust and enhanced reputation. 
The main opportunities for occupiers linked to a sustainable fit-out are set out below.
1. Improved Health, Wellbeing and Productivity
People spend on average 90% of their time indoors. The indoor environment has a significant impact on how people feel, perceive and interact with their surroundings.
There is a growing body of research suggesting that best practice design and operational management of office environments can positively impact occupant productivity, health and wellbeing.
With staff costs typically representing 85-90% of total operational costs, compared to the remaining 10-15% on rent and operating expenses, the opportunity to improve the working environment should be a high priority for any occupier. Any incremental improvement to staff productivity, reduction in absenteeism and improvement staff retention and recruitment will be significant benefit to a business's bottom line.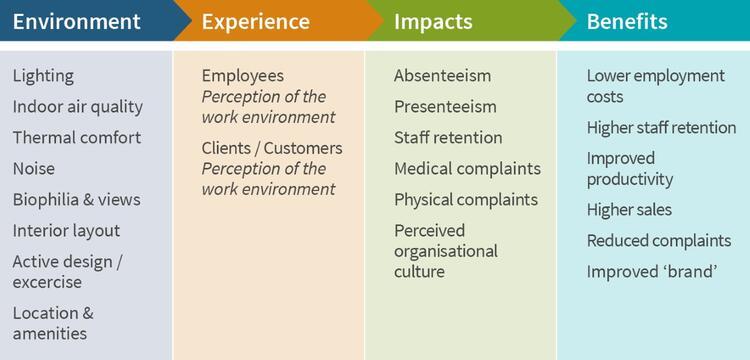 Improved cognitive function through well ventilated offices that lower concentrations of carbon dioxide and pollutants. A comprehensive body of research can be drawn on to suggest that productivity improvements of 8-11% are not uncommon as a result of better air quality.
Improved comfort through well maintained temperatures, access to daylight, appropriately lit working space and reduced noise levels.
Improved physical health through 'active design' that encourages greater levels of movement by staff in the office environment and selecting buildings with access to services and amenities such as gyms, bicycle storage and green space.
Improved satisfaction through access to amenities, the 'look & feel' of an office, the level of control over internal conditions, biophilic design, and views and access to green space.
Improved mental health though biophilic design, views and access to green space and reduced noise levels.
Improved collaboration through careful consideration of an internal layout that provides functional spaces which encourage employees to meet, discuss and move within the office.
Cundall's new office at One Carter Lane was one of the first to receive a Gold WELL Standard certification. To achieve the gold standard required a 3.6% uplift in fit-out costs (approx. £30,000 or £200 per head). For Cundall, their greatest operational cost is their staff, and their view is that if the approach they've taken with their fit-out results in retaining one additional member of staff then the fit-out has effectively paid for itself.
2. Lower Operational Costs
Sustainable design considerations within a fit-out can deliver operational cost savings directly through reduced energy and water use, and responsible waste disposal.
However, by considering the resilience, durability and longevity of systems and finishes (across the life-time of the lease) maintenance costs can be reduced, unnecessary Cap-Ex for plant replacement averted, and business continuity de-risked. Considering energy security, utility price forecasts, climate change impacts and regulatory trends can help to inform future-proofed fit-out design.
Their first six months of electricity data from GVA's new headquarters indicated a 16% improvement in efficiency compared to the previous HQ. The six month post occupancy survey results, indicated that 80% of staff prefer it to the previous office, and 75% feel that the new office has a positive impact on their productivity compared with 46% previously, with 93% saying they are proud to work in the building.
3. Staff Satisfaction & Strengthening Brand
Paltronics, Swindon UK. In 2011, the UK team underwent an office fit-out when moving from three offices to one, with the new office space designed around the principles of communication, collaboration, concentration and contemplation. Post-occupancy data has shown absenteeism has reduced from 12.7% to 3.5% and workspace satisfaction has increased from 61% to 85%. (WGBC, 2014)
The sustainability of business operations is important for any organisation - whether it is attracting and retaining talent or publicly demonstrating commitments to external stakeholders, such as investors, clients and customers. The wider social and environmental activities of a business is having a greater influence on people's decisions to work for a company.  
Numerous studies and surveys have highlighted trends stating that employees are more attracted to, have greater levels of fulfillment when working for, and more likely to continue to work for companies with strong CSR commitments. It can also make a company feel more trustworthy and be a powerful differentiator in purchasing decisions.  
The space which a company occupies will naturally reflect the core values of that organisation to its occupiers and wider stakeholders. A sustainable fit-out therefore presents an opportunity to support corporate sustainability targets, strategies and policies, encourage greater staff engagement and collaboration, as well as enhance reputation and brand.
The 2016 Cone Employee Engagement Study found that over half of employees consider a company's CSR commitments when deciding which job to take. In addition, 55% say they would opt to work for a socially responsible company even if the salary was less, while 51% will not work for a company without strong CSR commitments. 
4. Reducing Regulatory Exposure
More sustainable fit-out can reduce occupier risk in relation to key regulatory requirements, as well as future-proof against forthcoming regulatory trends. For example, the BCO's Wellness Matters report predicts the future incorporation of health and wellbeing principles within the regulatory landscape.
Key Regulations Relevant to Fit-out
All UK large undertakings (> 250 employees or annual turnover > 50 million euro and balance sheet > 43 million euro) were obliged to undertake ESOS energy audits by the 5th of December 2015. 
These audits, updated at four-year intervals, are carried out by competent and accredited professionals and help owners to understand their current energy usage in buildings, industrial processes and transport, and to identify cost-effective energy savings measures.
Within the Energy Act 2011 and the Energy Efficiency (Private Rented Sector) (England and Wales) 2015 lie powers to make it unlawful to let properties which lie below the minimum energy efficiency standard of an E rating EPC. This applies to all new leases from 1st April 2018 and all privately rented property within the scope of the regulations by 1st April 2023.
Alterations, improvement works and fit-outs can potentially have a significant impact on the EPC rating of a building/unit which in turn could have a negative impact on the property's value. It is common practice for property owners to have in place processes within Legal Agreements that ensure occupiers have considered this risk and undertake activities to mitigate against this risk. 
Not only is this legislation important for an occupier to be aware of in terms of it's impact to the property owner, but it is equally important to be aware that any fit-out or alterations work that result in a property becoming sub-standard will affect the occupiers ability to renew a lease or sub-let the space. 
CCL affects large non-energy-intensive organisations consuming ≥ 6,000 MWh of electricity/year.
Commercial occupiers are required to pay environmental taxes, such as the CCL tax for every kWh of energy electricity consumed. 
CRC Energy Efficiency Scheme Registered organisations are required to monitor and report CO2 emissions, as well as buy and surrender allowances to cover their annual carbon footprint. As with CCL, successful sustainable fit-out can hence reduce operational cost expenditure and minimise annual tax expenditure.
Organisations which send waste to landfill are required to pay Landfill Tax.
Integrating sustainable and responsible construction practices in to fit-out works could reduce waste generation, increase reuse/recycling and so divert waste from landfill, thus reducing tax expenditure. Measures to reduce operational waste can further cut Landfill Tax liability to the Occupier.
---