Guidance Note purpose 
The purpose of this Guidance Note is to provide asset managers, property managers and facilities managers with information that will help them to understand what social value is, and how they can work with occupiers to align social value activities with a property's local context and the needs of its stakeholders. 
Context 
The concept of 'social value' is used by commercial real estate companies to measure the impact that properties have on local communities and society as a whole. 
The UK Green Building Council's framework for defining social value focuses on wellbeing and quality of life improvements in relation to the interests of stakeholders impacted by a property: 
"In the context of the built environment, social value is created when buildings, places and infrastructure support environmental, economic and social wellbeing, and in doing so improve the quality of life of people. Exactly which environmental, economic and social outcomes create social value will depend on the best interests of the people most impacted by the project or built asset."1 
These wider benefits can be described using a variety of acceptable alternative terms.  Examples of these terms include: 
Socio-economic impact. 
Social impact. 
Social and relationship capital. 
True value. 
Planning gain. 
Community benefit. 
Social outcomes. 
Social outputs. 
Social value outcomes include tackling economic inequality, driving equal opportunity, improving health and wellbeing, community integration, fighting climate change, reducing waste and, more recently, supporting COVID-19 recovery.  Social value enables building owners, property managers and occupiers to understand and improve the impact of their buildings and activities and enables investors to factor these benefits into their investment decisions. 
Alongside asset managers, the occupiers of a property often have an interest in generating social value.  Property managers can play a valuable role in ensuring that occupiers social value activities align with the local context and stakeholder needs as well as, potentially, the social value programmes undertaken by the asset manager and other property stakeholders. 
A process of materiality can be applied to determine the relevance and significance of various social issues to the building and to its stakeholders. An issue is considered to be material if it is highly relevant to the scope of services delivered though a property, and if there is a significant impact created for stakeholders through the management and influence of that social issue. 
Importance 
The reasons why social value within the commercial real estate sector is important are wide ranging. 
Regulatory 
A variety of regulatory drivers, aimed primarily at the public sector, affect and influence the private sector through the procurement and tendering process. 
The Public Services (Social Value) Act 2012 
This Act relates to the introduction of social value criteria within tender weightings in England and Wales.  It requires that organisations that commission public services consider how they can also secure wider social, economic and environmental benefits. 
In January 2021, changes to the Act were introduced to require that all central government major procurements explicitly evaluate social value, rather than just consider it  
The Well-being of Future Generations (Wales) Act 2015 
This Act sets out a common purpose for national and local government, local health boards and other specified public bodies, to improve the well-being of Wales through seven well-being goals. 
Public bodies must carry out sustainable development, including setting and publishing well-being objectives and taking all reasonable steps to achieving those objectives. 
The Procurement Reform (Scotland) Act 2014 
This Act requires that contracting authorities in Scotland consider how the procurement process can improve the wellbeing of the authority's area. 
Requirements include facilitating the involvement of small and medium enterprises, third sector bodies and supported business, and promote innovation. 
Other business benefits 
Focusing on a property's social value has the potential to contribute towards a range of business concerns, including, for example, occupier and visitor satisfaction, contribution to footfall, community relations, recruitment, retention, a license to operate and positive publicity. 
Commercial real estate companies are experiencing increasing information requests about social value, including evidence of contribution towards specific outcomes, as part of tender requirements.   
There are a number of factors which drive this interest, examples including: 
Investor expectations for disclosure and transparency to help understand businesses' wider impact, and to identify and mitigate risk. 
Employee engagement in relation to attracting and retaining talent. Volunteering, for example, can help improve employees' health and wellbeing and make them feel connected to their communities. 
COVID-19 inequalities which can be addressed through commercial real estate.  Social value outcomes that can be considered include retaining jobs, supporting workers in managing COVID-19 impacts and providing community resources to respond to local needs. 
Understanding stakeholder needs 
There are potential opportunities throughout the lifecycle of a building to create social value for local people and communities and society in general.  These opportunities are wide ranging, including, for example, local employment, local procurement spend, employee volunteering, access to space within a property and use of the facilities and resources within a property. 
With such a range of potential opportunities available, it is important that stakeholder needs are assessed.  Understanding these needs can help to identify relevant interventions and focus activities in areas that create the most value. 
Understanding stakeholder requirements can also help to build positive relationships with communities and organisations local to the building. This enables property managers to identify priorities that will generate positive social outcomes for key stakeholders. 
Step 1: Understanding local needs and context  
Step 2: Prioritise stakeholder requirements  
Step 3: Creating and implementing a social value plan 
Show less
How to
Property and facilities managers play a vital role in increasing, maintaining or decreasing the social value created by a building through the way that it is managed and operated, and by engaging occupiers to understand their needs and help to shape their social value priorities. 
Asset managers have an interest in strategic social value issues, either at a property level or, more likely, across a portfolio. 
Property managers also often provide early-stage advice to asset managers on new developments.  For example, social issues relating to the location, design and construction of a building. 
To ensure continued social value generation over the long-term, and to help to focus occupiers social value activities towards relevant issues of greatest need, the following steps should be implemented simultaneously and be reviewed regularly: 
It is important that the social value strategy for a property is relevant to the circumstances in the property's setting.  Developing an understanding of local needs and context can involve fousing on a number of stakeholder groups.  These groups may include:   
Service providers and suppliers. 
Building users, for example, occupiers, management, employees. 
Building visitors, for example, shoppers for retail buildings, commuters travelling through a site or people using spaces such as public squares and gardens. 
Building owners. 
The local community, for example, local residents, local businesses, the local authorities, police, charities, community groups, business improvement districts. 
Surrounding buildings and their owners and occupiers. 
There are a number of techniques that can be deployed to identify stakeholder's social value needs.  Examples include: 
Identify occupier priorities. Review occupier corporate sustainability and/or social impact strategies at a corporate level to understand focus areas. 
Review building user interests. Occupier's employees may have locally specific interests which can be feedback through building occupier meetings or surveys.  These may include, for example, charity affiliation, nature/wildlife or volunteering. 
Review corporate skills and experience: Consider if there are any core competencies of employees that could be used to deliver social impact in the local community, for example, a marketing agency may be able to offer pro-bono advertising advice and support to a local charity.  
Understand local community needs. Local stakeholder needs can be identified through desktop research including Local Authority priorities and Government data such as local demographic profile. 
Engage local community groups to understand their needs. Consider how stakeholder needs may have changed as a result of the COVID-19 pandemic, for example mental health, digital inclusion and job opportunities and skills.  
The process of identifying stakeholder requirements, is likely to generate a long list of potential social value opportunities.  It is important to prioritise these to ensure resources, i.e., time and money, are focused on the areas that can add most value. 
This Prioritisation can be completed using a 'materiality matrix' whereby the lists of potential opportunities are grouped into themes and then ranked based on their importance to stakeholders and also to the occupier's business. 
Undertaking a materiality assessment is most effective when engaging representatives of a property's stakeholders in a workshop.  With facilitation by a property manager, the workshop could include, for example: 
Employees from a property's occupiers. 
Local community groups. 
Local authority 
Local school or college.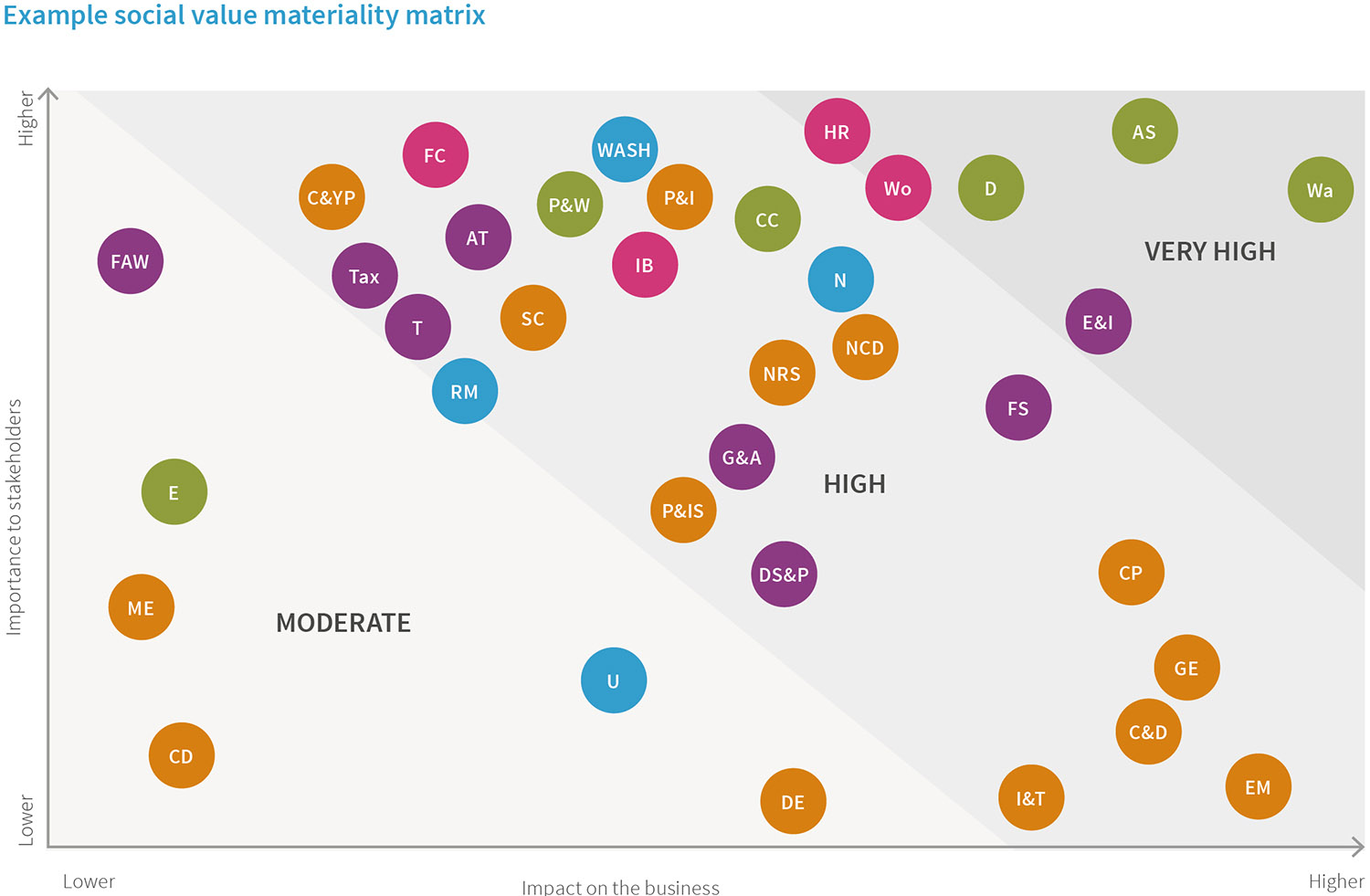 A social value plan is an important tool in shaping, collating and reviewing progress in the delivery of a property's social value activities.  A number of factors should be considered when developing and implement a social value plan:  
Select a social value definition and communicate this to a property's stakeholders. 
Agree which social value outcomes are going to be prioritised and how implementation will take place. Prioritisation should depend on the needs of the local community and on what the property can influence. Through engagement with the local community, check that interventions proposed are going to be useful to the community. 
The plan should set out short, medium and long-term objectives. Having a long-term vision helps create lasting legacy. The social value vision should be embedded in the way the building is managed on a day-to-day basis. 
Select a measurement framework can help define what social value means for building stakeholders and support social value maximization. 
Engage with other building stakeholders, for example, occupiers and service providers, to develop alignment towards the social value vision. 
Decide how success will be measured and ensure data (quantitative and qualitative) is being collected to monitor progress. 
Regularly review progress towards the social value vision, along with the action plan.  The plan is likely to need to change as the community's issues and priorities shift. 
//php dpm ($content);?>
Related Guidance Notes 
The following Guidance Notes contain related information: 
Additional Resources