To ensure that water consumption can be recorded and monitored during operation, it is important that metering and monitoring requirements are considered during the design stage. Metered water data can provide greater visibility in relation to how performance compares to design intent, how effective management processes are, help identify operational issues and support investment decision for improvement opportunities.
Details are set out in Metering & Monitoring, however, best practice measures to determine water metering requirements include:
Including water as a parameter within the Metering & Monitoring Strategy.
Assessing existing base-build metering.
Selecting water metering equipment from the Water Technology List meaning costs can be off-set against taxable profits via the Enhanced Capital Allowance (ECA) scheme.
Including water metering within Commissioning and on-going maintenance programmes Into Occupancy.
UK drinking water quality is among the highest in the work. Suppliers must follow strict standards for the quality of the UK public supply that are laid down in national regulations derived from the EU Drinking Water Directive. However, Water quality that reaches the taps within a building can vary because of changes to infrastructure, particularly for contaminants introduced downstream of municipal water treatment.
The WELL Building Standard has a dedicated section on water quality, including water monitoring procedures and minimum requirements for water contaminants including:
Lead.
Copper.
Turbidity.
Coliforms.
It is best practice to undertake a water quality assessment to identify any potential risks and determine if any additional treatment measures are required. This is an important element if WELL certification for the fit-out is desired, and will require annual monitoring during occupancy.  
As the mains water distribution network is under the owner's remit, cooperation between occupier and owner is essential to implement any water testing and water treatment measures as part of the fit-out works.
The hidden and inaccessible nature of pipe work in buildings means it can be difficult to identify leaks in a timely manner without the help of metering and monitoring equipment. Leaks which might go undetected for a long period of time have the potential to disrupt business continuity and incur substantial maintenance and repair costs. Opportunities to review should include:
The installation of a leak detection system. Specifying products from the Water Technology List (WTL) has the benefit of qualifying for tax relief under the Enhanced Capital Allowance (ECA) scheme.
The installation of sanitary shut-off valves. Allowing the isolation of water suppliers when washrooms are not in use. This typically comprises a solenoid valve and occupancy sensor to reduce the water loss if minor leaks occur in toilet area. These may also be applicable to other large water consuming areas such as kitchens.
Efficient sanitary fittings play an important role in water conservation by reducing demand, and associated operational costs, whilst maintaining a hygienic and high-quality experience for occupants.
Where sanitary fittings are being replaced or upgraded, select efficient options such as:
Dual and/ or low flush WC's
Waterless urinals
Low flow taps with automatic shut off
Low flow shower / showerheads
Alternatively, it may be possible to retrofit devices to existing fittings including:
Flow restricting valves.
Tap inserts to convert to spray/ aerated flow.
Low flow showers/ showerheads.
Proximity detection (e.g. PIR) devices for urinals (which could also be linked to lighting and/ or extractor fans).
Specifying sanitary fittings with a European Water Label can be a simple measure to ensure selected equipment is water efficient. In addition, such equipment features on the Water Technology List, which are eligible for Enhanced Capital Allowance (ECA) tax relief claims.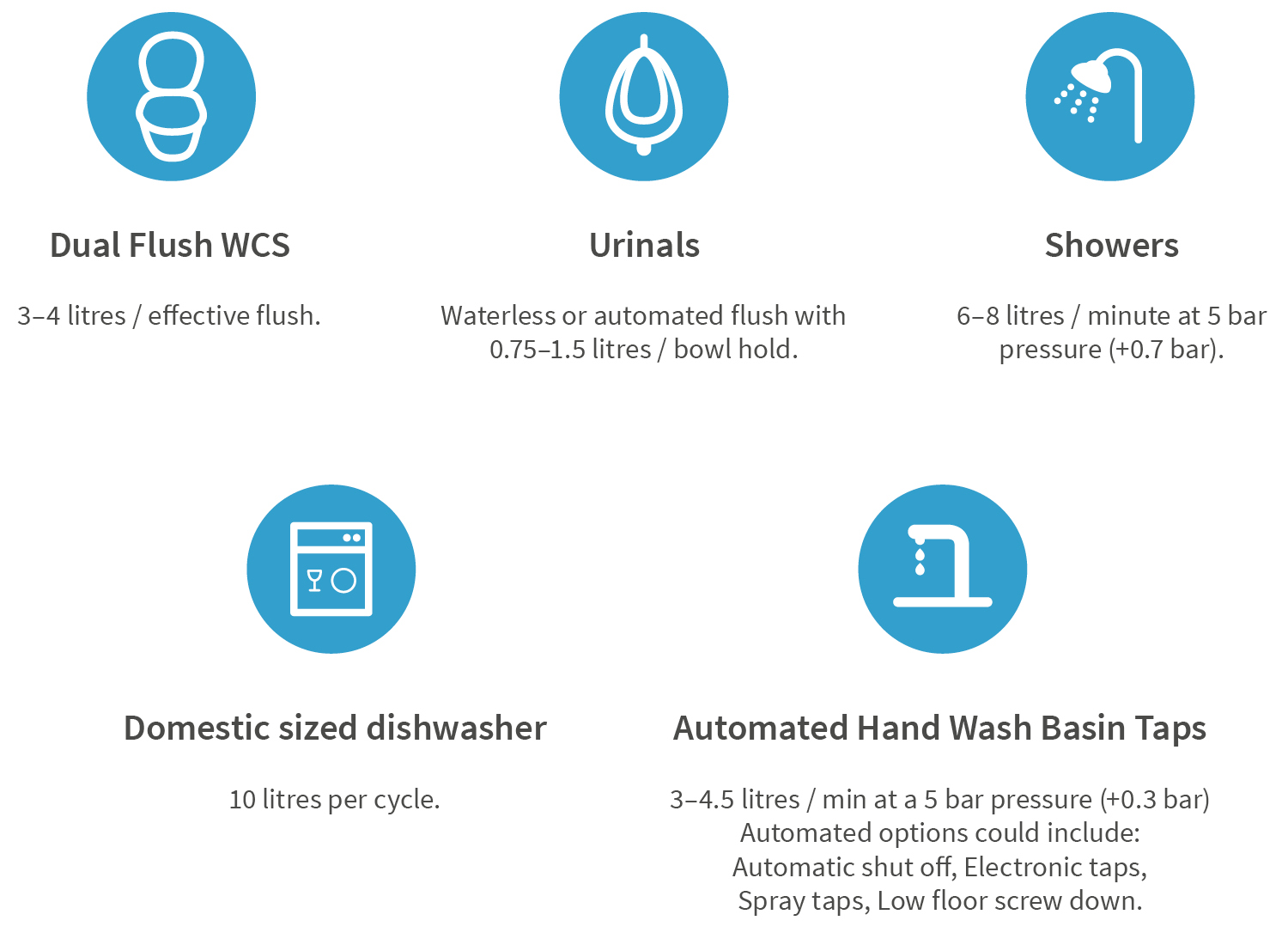 A rainwater harvesting and/or grey water recycling system can provide a significant opportunity to reduce reliance on the mains water network and provide resilience against future water scarcity.
Rainwater harvest can be used for irrigation purposes and/or toilet flushing
Greywater diversion from sinks/showers for treatment and reuse for toilet flushing and/or irrigation
Such system will require additional base-building infrastructure, therefore opportunities of choosing such systems will generally not be within scope for smaller fit-outs, and those in multi-let offices, unless there is buy-in from the property owner and other tenants.
Where opportunities do exist, the building size and design may limit the size and location of any water storage tank and treatment infrastructure. Storage tanks can be located either below or above ground, however designers will need to consider separate distribution pipework and potentially pumps. Designers will need to calculate the size of the tank and therefore the percentage of the total water demand which could be met by rainwater and/or greywater.